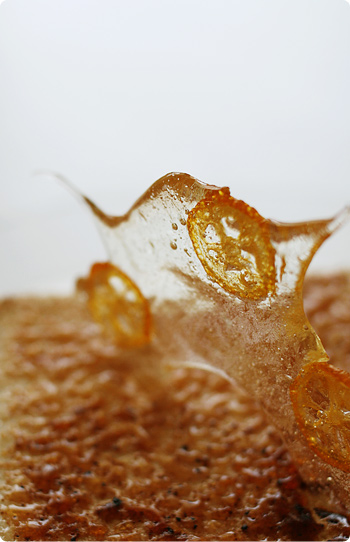 Kumquat Bonanza
21 June 2006
A couple of weeks ago, an auspicious-looking parcel arrived from Singapore – I knew straight away that it was from Joycelyn of Kuidaore, who makes the most exquisite food, with equally elegant writing. The package was thoughtfully packed full of wonderful goodies – and there was a lovely smell which turned out to be some fresh kumquats. She was anxious about how well they would travel but they arrived in perfect condition and I wasted no time in putting them to use.
Kumquats are a common ingredient in South-East Asia, but we hardly see them here in the UK. Their tangy, slightly bitter flavour is quite distinctive – I never thought about it before, but just realised that they taste similar to Seville oranges which also have thick skin and lots of seeds. I searched for recipes with kumquats, but many of them are for preserves and I wanted to make something more interesting…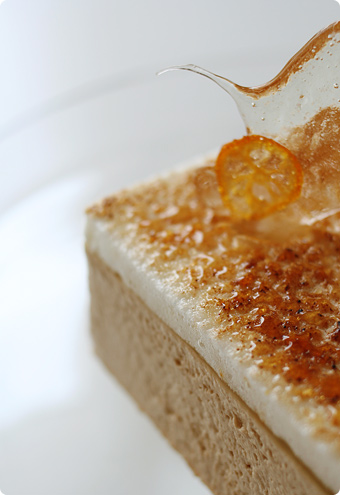 I got the idea of this dessert from one of Sadaharu Aoki's cakes – of course mine doesn't look as sophisticated as his, but tastewise I was really happy with how it turned out. I remember I tried the cake a couple of years ago and it was called Valencia – orange and chocolate/praline mousse cake with chocolate sponge and dacquoise as base. I was going to recreate it with kumquats, but then another recipe from one of my old Japanese books caught my eye – which seemed lighter in flavour and perhaps a better complement to the kumquats – so decided to go with the latter recipe but with Sada in mind :)
It's earl grey tea flavoured mousse cake – in the original recipe, plum compote is added to the tea mousse but I added finely chopped candied kumquats instead (Joycelyn kindly included her home-made candied kumquat in vanilla syrup, it looked, smelt and tasted gorgeous!) I made almond sponge as a base, and meringue with kumquat zest on top (sprinkle some icing sugar and caramelise with a blow torch just before serving). For the caramel 'plate', I oven-dried thinly sliced kumquats and swirled over caramel (you could use caramel with more colour but I think the clear caramel looks nicer on this cake).
I wasn't really sure until I tasted the finished result, but it was lovely – the citrus flavour from both the earl grey and kumquats work beautifully – a very summery, refreshing dessert. I served it with custard sauce (again, with some kumquat zest) and it was a nice finishing touch too. You need to infuse the tea quite strongly, but don't brew too long as it gets bitter.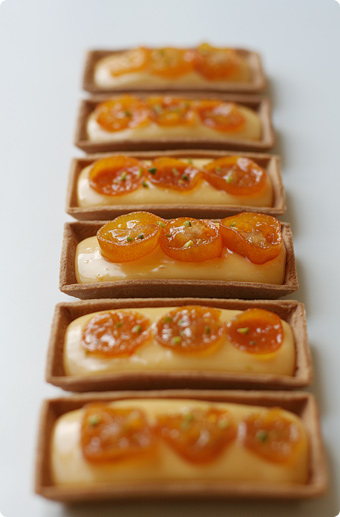 Next are the tarts – I found the recipe in Christine Manfield's Desserts – it was originally lemon curd tarts with lemon confit, but instead of lemon, I used the lovely candied kumquats that Joycelyn made. I must admit that I'm not really a tart person normally, but I enjoy making and tasting them occasionally. I also liked the look of the blueberry tarts in The Last Course by Claudia Fleming, also made in financier moulds – as did Anita :)
The pastry dough has kumquat zest as well as juice, I actually loved eating 'the base' as it came out from the oven :) For the curd, it was a bit tedious to squeeze all the juice as you can imagine (they are tiny and haven't got much juice in them) but it was all worth it – rich yet refreshing curd topped with lovely candied kumquats, sprinkled with finely chopped pistachios – I also made pistachio ice-cream and served it with the tart – yum!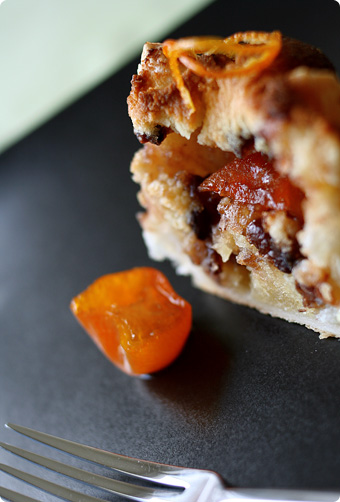 And last but not least – I found the recipe in one of Hironobu Tsujiguchi's books – he is a popular patissier in Japan, and as I've mentioned before, he is good at creating 'East meets West' type recipes (his grandfather and father owned a traditional Japanese sweet shop).
I could use the candied kumquats in this dessert also – they are enclosed in puff pastry, with azuki bean paste and almond cream, then bake the whole 'parcel'. I hoped it was going to work well and although I wasn't entirely happy aesthetically, it was delicious and I think it's an excellent combination of different influences.
By the way, I always try to make puff pastry myself as it has a much more flavour than the store-bought variety, but I simply didn't have time and had to buy some. Although it tasted OK, I think I'm going to make the effort next time :)
So, my kumquat experiments turned out well and sincere thanks again to Joycelyn, for making me feel a little less homesick…