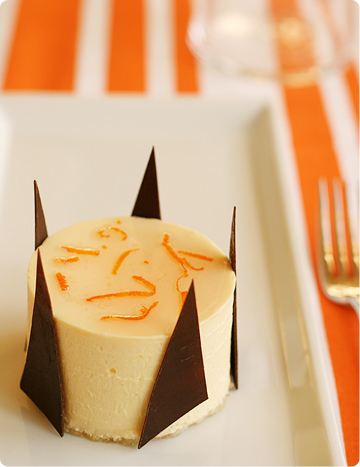 Clémentine
9 December 2005
I'm still thinking about what desserts to make for several occasions over Christmas – I should really stick to things I'm used to making (especially knowing that I'll need to cook everything else as well!) but I'm hoping to try something new and maybe a bit adventurous. As well as (hopefully) tasting good, I'm keen to use seasonal ingredients – Clementines definitely fit the bill.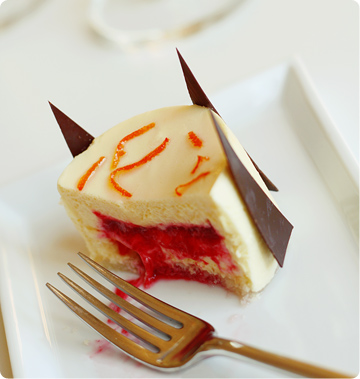 This cake is another recipe from Hidemi Sugino book and it looks like just clementine mousse – but the mousse is actually covered with clementine butter cream. I cooked the clementine juice to reduce it less than half to get a concentrated flavour – it really helped as when you add fruit puree into mousse/cream it tends to lose the flavour quite easily. The butter cream has Italian meringue too, which helps to lend a lighter texture (I had been put off by butter cream based cakes for a long time, but I changed my opinion since I started making it on my own). To assemble, spread the butter cream thinly inside the moulds (which was harder than I thought!) and place the almond sponge at the base. After you have half filled the moulds with clementine mousse, push the raspberry sauce into the middle (the same technique as here, make the sauce first and freeze it), and cover with more mousse. Leave to set, then top off with the butter cream.
To finish, I made some thin chocolate triangles (another therapeutic chocolate tempering session :)) As you can imagine, all the flavours worked really well – glazing the top with cooked clementine zest in syrup was a nice finishing touch too. I had some butter cream left and tried it with my brownies (Nigel Slater's recipe in The Accidental Foodie) – delicious!
So I think this is going to be considered as one of my festive desserts this year, and I have lots more recipes waiting to be tried – but I simply haven't got the time…