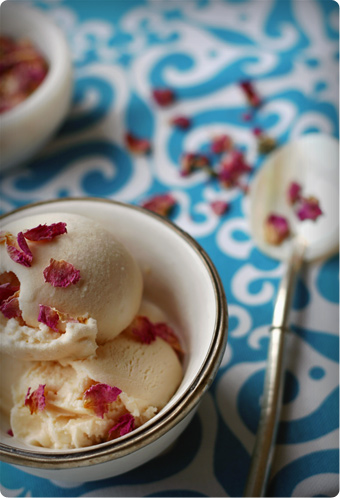 Rosewater, Cardamom and Gum Mastic Ice-cream
27 March 2006
It's always exciting to try ingredients you've never used before – although I sometimes (OK, often) miss the food from my country, one of the positive aspects of moving to the UK is that it's more multicultural and so we can get many different types of ingredients that I've never tried before.
I've had this distinctive ice-cream here and absolutely loved it. I vaguely remembered that the recipe was included in the Clarks' book and I was right – I wasted no time finding the right page, but soon realised that there was one ingredient I couldn't get here – called gum mastic. It's a resin from a tree native to Greece and Turkey and people there chew it instead of chewing gum. In the book, the Clarks say that you can omit the gum mastic, but I really wanted to try using it and checked Greek/Turkish suppliers in London – there were quite a few, but none of them were located conveniently for me so I had to give up going myself. I knew I could ask Shalimar about it, though :) She is a world traveller, but has lived in Greece for a while now. She knew exactly what I was talking about and sent me some mastic straightaway, I was actually making the ice-cream just a few days after I was asking her about it, she is indeed a kind-hearted soul.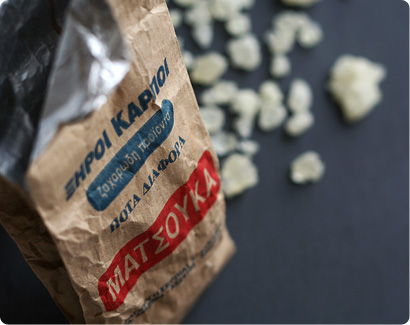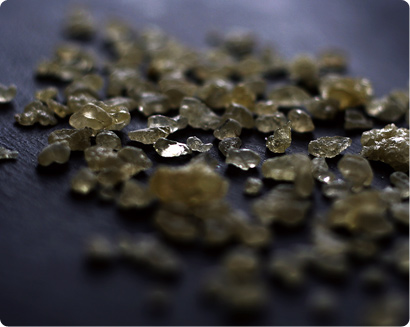 Their recipe suggests using evaporated milk as well as milk and double cream. Reduce the milk and cream by boiling for a while before adding the evaporated milk – it will be almost beige in colour and have a concentrated creamy flavour. Infusing the milk with cardamom and cinnamon already makes for an exotic flavour, but this jewel-like gum mastic (its smell is gorgeous) and rosewater makes this ice-cream even more so. (I love to sprinkle some rose petals on top – although it's more of an aesthetic factor, it does add some flavour and smells lovely)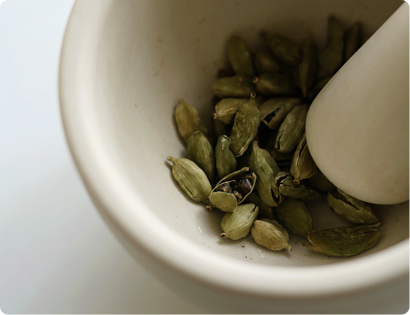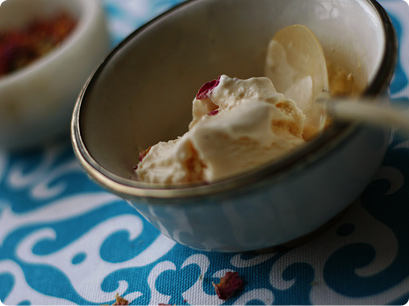 I suspect this isn't to everyone's liking, but it's definitely worth trying if you like Eastern Mediterranean food. I've also made the ice-cream with orange-blossom water instead of rosewater and it was equally delicious. I've found a similar recipe in this book too – her version is simpler and only uses gum mastic to flavour the ice-cream. She has included a recipe for yoghurt and semolina syrup cake with rosewater – which must go wonderfully well with the ice-cream, I shall try it as soon as I can :) Oh and while I was struggling to shoot the rapidly melting ice-cream, someone was giving me moral support…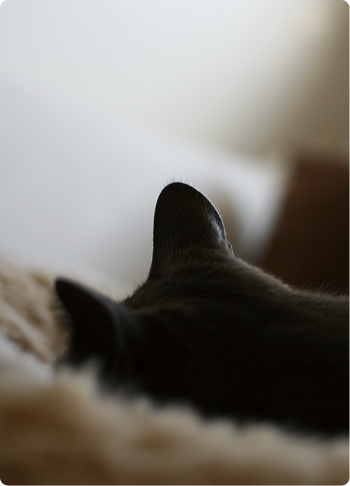 Serves 4
1 tablespoon whole green cardamoms
300ml milk
300ml double cream
1 cinnamon stick
85g caster sugar
100ml rose water
1 teaspoon gum mastic crystals, crushed with 1 teaspoon caster sugar (optional)
200ml evaporated milk
dried rose petals (optional)
 
Crush the whole cardamoms in a pestle and mortar, take out the pods leaving the seeds then pound the seeds to a fine powder.
Place the milk and double cream in a saucepan, add the ground cardamom and cinnamon stick. Bring to the boil and simmer over a low heat, stirring occasionally, until the liquid has reduced by about a quarter to a rich creamy colour (it takes about half an hour).
Place the sugar and rose water in another saucepan and dissolve the sugar over a low heat until it becomes a thin syrup. Remove from the heat and cool.
When the milk and cream are ready, remove from the heat and stir in the crushed gum mastic (if using) and cool for about 15 minutes. Sieve the liquid and discard the solids. Add the evaporated milk and combine with the rose water syrup. Cool and chill.
Churn in an ice-cream machine until thick enough to scoop (if you haven't got a machine, freeze the chilled mixture, giving it an energetic whisk with a hand whisk or electric mixer every half an hour or so to prevent crystallisation).