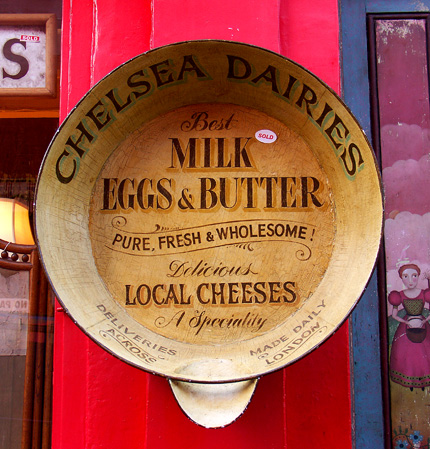 Where to go in Notting Hill (if you are an eager cook)
4 February 2005
Books for Cooks – the mecca for cookbook aficionados.
(BTW, the picture above isn't of Books for Cooks. I took this at an antique shop on Portobello Road)
I first went in the shop about 10 years ago; although it still had a nice feeling, I remember it was rather messy (much like the (in)famous book shop Foyles on Charing Cross Road) and quite difficult to find what you were looking for. They didn't have a cafe at the back of the shop then, but now they have a 'test kitchen' where they cook recipes from the books they sell and serve them daily at the cafe. They run cookery courses too – one of my favourite chefs, Ursula Ferrigno, is among the teachers there.
Try not to visit around lunch time unless you are actually going to have lunch! They have a big section of French, Italian and Spanish books just next to the tables in the cafe but it's always busy at lunch time and you can't look at those books because somebody's always leaning over the shelves enjoying meals… I guess you could just have a seat and enjoy lunch instead :)
Don't forget to pop in The Spice Shop, just opposite BfC. One of the BfC owners Eric Treuillé and a spice expert Birgit Erath run the shop. They have so many varieties and you just can't decide which to try! I got a lovely spice mix called Aleppo last time – it's a blend of aleppo pepper, sumac, allspice, cardamom, nutmeg, cinnamon and cumin etc.
Eric recommended it for lamb dishes – he was right, it's versatile and I mainly use it for marinating meat/fish. Their book Barbecue is full of great recipes – I've been using it for years.