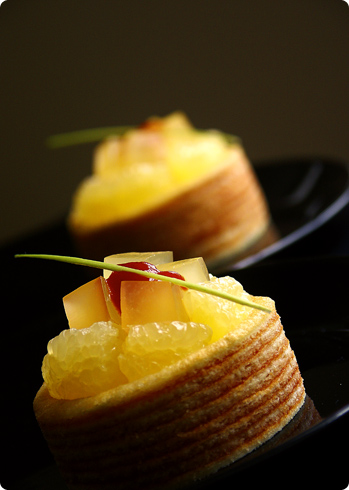 Honey Mousse and Grapefruit Jelly with Tomato Jam - SHF#8
20 May 2005
I didn't think I could make it this time, but it's always worth trying to make something new for this event – especially since the theme that Alice of My Adventures in the Breadbox chose for this month was citrus and I didn't want to miss it!
I found the recipe in this Japanese book – it's written by seven popular Japanese patissiers and each one has a few recipes, details of how they got into pastry making and some advice for patissier acolytes. Although I've never intended to be a patissier, it was really interesting to read through.
It may not sound very convincing when it comes to a combination of desserts and vegetables – I wasn't so sure about this recipe either, but when I saw the ingredients for the tomato jam, it somehow intrigued me. This cake consists of honey mousse wrapped in tomato jam-layered sponge with grapefruit jelly on top. Making the sponge was good fun – bake a thin biscuit joconde first, spread the tomato jam, pile up in layers and freeze it for a while – and then cut very thinly to fit a mould. For the tomato jam, cook tinned tomatoes with honey, sugar and lemon juice – I thought it actually tasted like strawberries and it made sense because you add some strawberry puree into the honey mousse too! For the grapefruit jelly, the recipe suggests using Kuzu flour, which is often used to make Japanese jelly type desserts – but I didn't have any at hand so used gelatine instead.
I must say that I was quite excited when I tasted the tomato jam and looked forward to tasting the finished cake. I really liked the subtleness of it as a whole, none of the component parts stood out too much. The tang of the grapefruit flesh and jelly work so well with the honey mousse and when you have the tomato jam with them, you can taste the fruitiness of the tomatoes – I'm sure you wouldn't notice it's got tomatoes in there unless someone told you! I put lemongrass on top purely for decoration, but it smelled really lovely too. I'm quite happy with the result, because I often find that my mousse desserts are lacking complexity and this one has interesting texture as well as flavour.