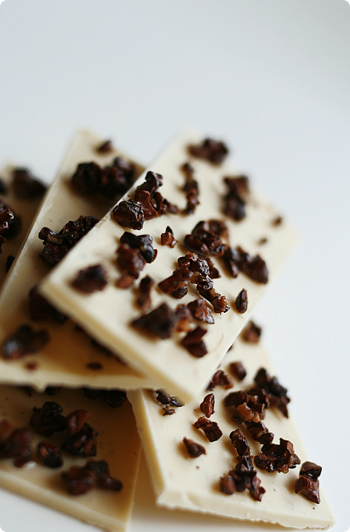 Caramelised Cocoa Nib Ice-cream
8 June 2006
Since I got these cocoa nibs from my last trip to Paris, they've been the source of an irresistible smell in our larder – every time I opened it, I could feel them calling out 'try me now!' 'eat me now!' :) I've always loved the bitter, slightly smoky flavour of the beans, but this was my first time to actually make something with them – needless to say, I was very excited.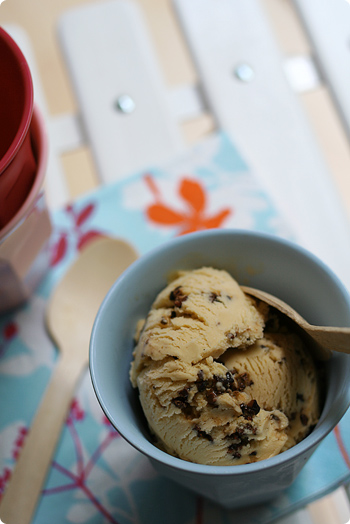 As an ice-cream lover, I knew this recipe from Chocolate Obsession would be one of my first choices – Michael Recchiuti's book is beautiful with gorgeous photographs (Although I must say that I had a hard time converting all the quantities of the ingredients – I wish they would at least have included metrics along with the cup measurements!)
Before I started reading the recipe for the ice-cream, I assumed that it was plain vanilla ice-cream with caramelised cocoa nibs – but the custard is actually infused with raw nibs as well. When I tasted the custard I thought it was quite strong (I think I might have added more nibs than it says in the recipe :)) and that it might work better with a lighter/sweeter custard to give more contrast – but when I tasted the final result, I just loved it – couldn't stop eating from the tub!
Caramelising the nibs is dead easy – and you can keep them for ages in a plastic bag. You can of course use nibs just as they are but caramelising them will give more flavour and a crunchy texture. If you really can't be bothered trying this ice-cream recipe yourself, just get some good vanilla ice-cream (or any flavour you think may work) and sprinkle the caramelised nibs on top – I'm sure it'll satisfy your nib craving!
 
I've also tried another recipe from the book, caramelised cocoa nib white chocolate bark – I must confess that I've stayed away from white chocolate since I made this rather-bland-really-sweet cake – but I knew the bitter flavour of the nibs would contrast nicely with the sweetness of the chocolate and it was divine! I couldn't resist munching even when I was taking pictures of them – I think there was less chocolate than I intended in my pics :)
For tempering chocolate, Michael suggests using a 'seed method' in the book, but I used a 'mush method' (although I didn't exactly follow this procedure, this page gives you an idea of the difference between the two). I don't know why but I find tempering chocolate on a marble slab quite therapeutic, but maybe I should ask him what is the best way to do this at home :)
Danielle posted a cocoa nib ice-cream recipe from Bittersweet a while ago – it doesn't have eggs in it and I'd like to try that version too. Bittersweet actually has quite a few cocoa nib recipes, including savoury ones – they definitely seem worth a try, meanwhile please let me know if you have any favourite ideas for these delightful beans!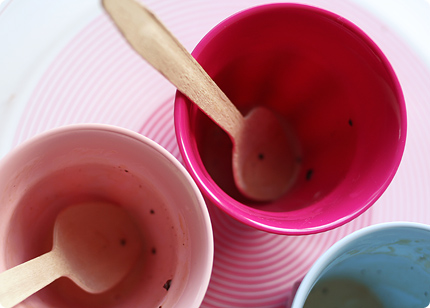 Caramelised cocoa nibs
10g unsalted butter
180g cocoa nibs
100g granulated sugar
 
Have a piece of parchment paper ready on a flat surface (such as a work top or a baking tray).
Place the nibs and sugar in a pan over high heat and stir energetically with a wooden spoon (the mixture will smoke as the sugar melts). When almost all the sugar has melted, remove from the heat and stir in the butter.
Spread the mixture thinly onto the parchment paper and leave to cool. If you are keeping any, store in a zippered plastic bag at room temperature.
 
Cocoa nib ice-cream with caramelised cocoa nibs
serves 3-4
200ml milk
50g plus 40g caster sugar
35g cocoa nibs
1/2 vanilla pod, seeds scrape out
3 egg yolks
150ml double cream
40-50g caramelised cocoa nibs (adjust to taste)
 
Place the milk, 50g of the sugar, cocoa nibs, vanilla seeds and pod in a pan. Bring to the boil, then remove from the heat and cover the pan, leaving to infuse for about half an hour.
Strain the milk through a fine sieve and return to the saucepan, bringing to a simmer. While the milk is warming, whisk the egg yolks and the remaining sugar in a bowl until pale and foamy.
Slowly pour the hot milk into the egg mixture, whisking constantly, then return the mixture to the pan and cook over medium heat, stirring all the time, until the custard coats the back of a spoon. Pour through the fine sieve into a bowl and stir in the double cream. Cool and chill.
Churn the custard in an ice-cream machine and when it's thick enough to scoop, fold the caramelised nibs into it by hand.