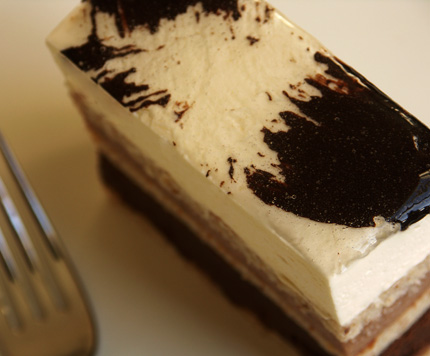 B-Caraïbe
6 March 2005
I didn't plan to make this cake because I'm not mad about bananas, but I had all the ingredients in hand when I saw the recipe and that was just after I saw the Big G's banana maple upside down cake on Santos's site – so that was good enough reason to try out!
The recipe is from a book called Le Goût Authentique Retrouvé – written by a Japanese patissier Hidemi Sugino, whose shop in Tokyo has been very popular since its opening two years ago (it's called 'Idemi' without the H – like French/Italian/Spanish – I guess he was used to hearing his name that way when he was a patissier in France).
I've never had any of his desserts, but I quite liked his book as his modern approach to the combination of ingredients as well as the presentation seemed really interesting. He named this cake 'B-Caraïbe' (bananas of Caribbean), it's made with three layers of cream (from the top: vanilla, banana and orange infused chocolate) sandwiched with almond sponge. Freeze the finished cake for a while, and brush some melted chocolate on top. Maybe I could use riper bananas next time, but generally all the flavours work well together.

browse
search
categories
current reading

food blogs
Nordljus is powered by textpattern
All writing and images on this site © 2005-2009 Keiko Oikawa