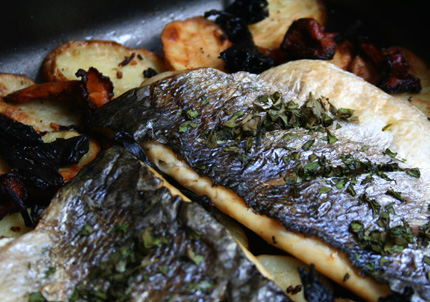 Roasted Wild Sea Bass Baked on a bed of Potatoes and Wild Mushrooms
9 August 2005
Although there is no contest when it comes to the varieties of fish/shellfish we can get here in the UK compared to what I was used to in Japan, decent fish can be found here too – as long as you don't mind searching off the beaten track. We can get locally caught wild sea bass on a good day and this dish (a recipe from Jamie Oliver's old book) has been my favourite since I came here. No mucking about, simply roast with mushrooms and potatoes – luckily I had some fresh wild mushrooms this time (I'm particularly partial to chanterelles and black trumpets), but you can use dried if fresh aren't available.
First, roast some sliced potatoes with a little olive oil in a baking tray for 15 minutes at about 220-230 Centigrade. Meanwhile, slash the fillets half way through their thickness and stuff the cuts with chopped herbs (basil, flat parsley, thyme etc). Fry mushrooms in a pan with a little chopped garlic and butter. Squeeze over some lemon juice and scatter the mushrooms over the potatoes. Place the fish on top and bake for about 15 minutes in the oven, depending on how thick the fillets are. Serve with salsa verde.
Yes, I love salsa verde – it goes really well with any roasted meat/fish. Try to use it all up the same day as it doesn't keep long!
Salsa Verde
serves 4
1 clove of garlic
1 small handful of capers
1 small handful of pickled gherkins
3 anchovy fillets
1 bunch of basil leaves
1 large handfuls of flat-leaf parsley leaves
1 small handful of mint leaves
1 teaspoon Dijon mustard
1 tablespoon red wine vinegar
50 ml olive oil
Finely chop all the ingredients. Add the mustard and red wine vinegar, then stir in good olive oil. Season with salt and black pepper.