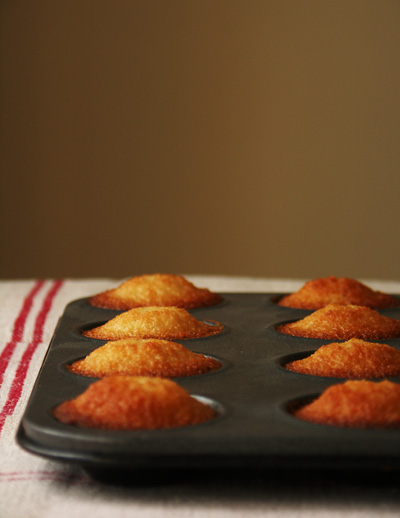 Gâteau Week-end
19 April 2005
A couple of days ago, I was reading this post about madeleines on The Food Section, hosted by Josh in NYC. I noticed that the recipe he used was very similar to my favourite cake called week-end. Although I tend to make complex desserts and enjoy making them more than plain things, it doesn't mean that I don't like simple cakes at all, I love them just as much. (BTW, I don't know how Josh finds time to put all the great info together – for me, just writing a post once a week is hard work!)
I found this recipe in one of my Japanese books and have been using it for years – it's basically a variation of madeleines, the interesting thing is that you make two different types of batter and rest them separately, which really enhances the flavour. The ground almonds make the cake moist, so I don't usually bother to make frosting (normally apricot jam and lemon syrup for this cake).
I think the name 'week-end' derives from the fact that you can easily take it with you when you go away for a weekend, but I'm not sure if that's the authentic name…
 
For 18×8cm pound cake mould
Lemon batter
100g granulated sugar
90g plain flour (sifted)
1 tsp baking powder
zest of 3 lemons
2 eggs
110g melted butter (50-60 degrees C)

Almond cream
50g butter
50g icing sugar
50g ground almonds
1 egg
1 tsp plain flour

To make the lemon batter, combine the flour, baking powder, sugar and lemon zest in a bowl. Make a well and pour the beaten eggs in a little a time, blending with the flour as you pour. Fold in the butter and mix well. Rest in the fridge for a couple of hours.
To make the almond cream, cream the butter in a bowl, add the sugar and whisk until pale. Add the ground almonds and flour and mix well. Add the beaten egg a little a time and mix with a spatula. Rest in the fridge for a couple of hours.
Combine the two batters and mix well. Pour into the buttered mould and tap it on the worktop. Smooth the surface with a spatula and bake at 170 degrees C for 40-45 minutes. Transfer on to a wire tray to cool.