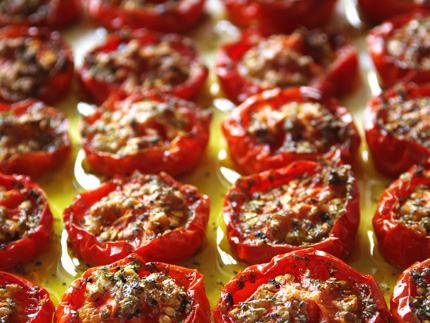 The power of AGA
27 February 2005
I still remember when I first had this lovely dish more than four years ago. My friend Cheryl – who has wonderful taste and is also a great cook – she and her husband Neil had a lovely cottage in Suffolk and kindly invited us for lunch. That was just after I moved to Britain and the idea of the 'British country cottage' wasn't very familiar to me, I was like 'Oh!' 'Wow!" every time I saw anything 'country-ish' in the house (excuse my bad English).
One of the most interesting things I saw among their tasteful décor was their AGA cooker. I don't know how popular these traditional Swedish cookers are outside the UK; but it seems that you must have one if you live in a typical British country cottage. They said that you have to keep it running all the time because if you turn it off it takes days to heat up again – I was so fascinated!
I noticed the lovely smell when we walked in the kitchen and I asked her what she was cooking. She said they were oven dried tomatoes that she put in the cooker a while ago (I was excited at this stage already). They had a wonderful concentrated flavour and she kindly told me how to make them, fortunately there wasn't anything complicated involved and I could manage to make them myself. It's a very versatile and useful dish, that's definitely one of my favourites since then. I personally like to sprinkle some dried oregano, garlic and a pinch of sugar before the roasting, but it's totally up to you. It is essential to choose good vine ripened tomatoes – and then just roast them at 120-130 degrees (centigrade!) for 2-3 hours.
I'm quite happy with our oven, but I still believe that anything cooked in this legendary oven tastes better…