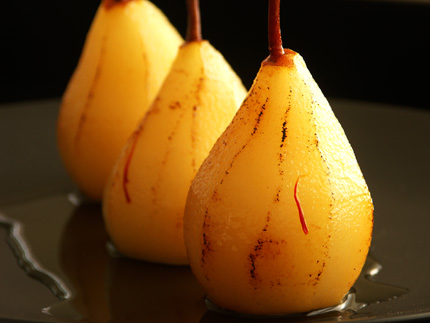 What's in season (in Britain)
5 February 2005
I found this recipe in olive magazine – I wouldn't say I'm a big fan of pears (!) but thought it looked pretty and would give it a go. Fortunately, nothing complicated involved; you just need to poach the pears in saffron infused syrupy water and fill with white chocolate mousse (melted chocolate + lightly whipped double cream) where you remove the core (your guests would be impressed by the mousse coming out like fondant).
The fun bit is browning the pears with blowtorch – I don't think it makes much difference in taste but looks more interesting :) (I'm a visual person…)
I personally prefer this with vanilla ice cream, though, I found white chocolate a little bit overpowering. I use conference or cornice pears, but any firm type will do.
 
browse
search
categories
current reading

food blogs
Nordljus is powered by textpattern
All writing and images on this site © 2005-2009 Keiko Oikawa