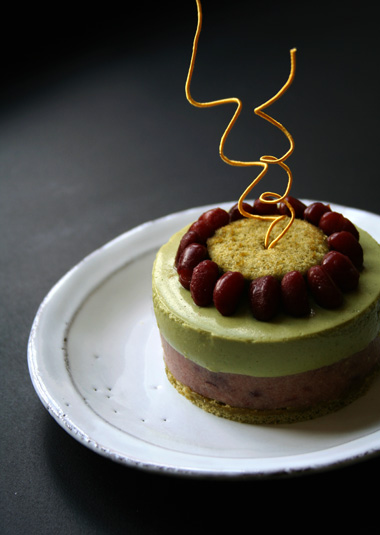 Matcha Double Bill - IMBB #17
31 July 2005
Everyone has been excited since Clement announced the theme for this months' IMBB – including me! There are so many things you can do with tea, but I decided to stick to matcha this time as I've been in a 'back to Japanese' mood recently (and the matcha my mum sent me was getting a bit old, so I wanted to use it up).
I considered making matcha noodles (which I love), but I knew it was quite difficult to get right and I don't have much experience, so I had to give up on that and go with pastry instead. I've posted before about making opera cake and panna cotta using matcha – these are Japanese takes on popular European classics but this time I wanted to have a little extra Japanese taste, so I used azuki beans along with matcha. That's a very common combination in Japanese sweets and you can't go wrong with it. This cake uses matcha flavoured sponge as a base, with azuki bean and matcha mousses layered on top. Although I think I knew what it was going to taste like, it's been a long time since I had Japanese sweets and it made me feel that I'd like to learn a bit more about making them.
I used tinned sweetened azuki beans this time (not pureed), which you can get anywhere in Japan but may be difficult to find elsewhere. If you can't find them, I found a very useful recipe on Clement's site about how to make azuki bean paste using dried beans – I can't promise his recipe will work with mine because I haven't tried it, but looking at the recipe, I think you should be able to use it as a substitute.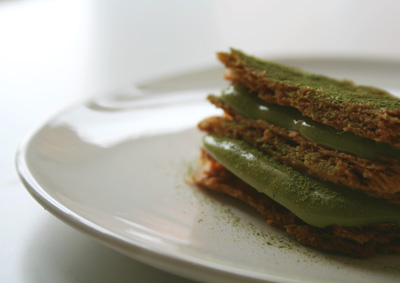 Well, I said I wanted to make something Japanesey – and I did, but I still had some matcha left and decided to have another go at something with a French twist – matcha mille feuille. Apart from adding some matcha into the custard (mix it with a little water before you add it), follow exactly the same process as classic mille feuille. As I mentioned before, I wasn't that impressed by the matcha creations of Mr Sadaharu Aoki and I wanted mine to have a more subtle flavour than his. Despite the poor presentation, I was quite happy with the taste – the slightly bitter custard works really well with the flaky puff pastry. I suspect that it will taste quite different depending on what type or quality of matcha is used, so make sure you add it a little at a time and adjust the quantity to taste.
 

Matcha and azuki bean mousse cake
Matcha sponge
50g plain flour
10g matcha
2 egg yolks
2 egg whites
60g sugar
Azuki bean mousse
6g sheet gelatine
180g tinned sweetened azuki beans
180ml double cream
Matcha mousse
6g sheet gelatine
100g milk
10g matcha
1 egg yolk
1 egg white
40g sugar
80ml double cream
To make the matcha sponge, preheat the oven at 170 centigrade. Sift the flour and the matcha together. In a bowl, mix the egg yolks and the half of the sugar until pale. Whisk the egg whites with the rest of the sugar until stiff. Add one third of the meringue into the egg yolk mixture and fold the egg mixture gently into the meringue. Add the flour into the mixture and again fold gently. Bake in the oven for about 12 minutes. Set aside and cool.
To make azuki bean mousse, soak the gelatine in cold water. Place the beans in a bowl. Squeeze out the gelatine, melt in a bain marie and stir into the beans. Whip the cream into soft peaks and fold into the bean mixture. Set to cool.
To make matcha mousse, soak the gelatine in cold water. Mix the matcha with the milk in a pan, and put on a low heat. In a bowl, mix the egg yolk and 20g sugar until pale. Pour the hot milk into the egg mixture little by little.
Sieve the liquid into a pan, then place on a low heat and warm to 85 centigrade. Remove from the heat and add the gelatine. Leave to cool. Whip the cream into soft peaks and fold into the matcha mixture. Make the meringue with the egg white and the rest of the sugar and fold into the matcha mixture.
I used individual moulds this time, but you can use any moulds – just place the sponge as a base, and layer the azuki mousse and matcha mousse on top (or the other way round). Make sure you set the first layer in the fridge before you pour the next one.