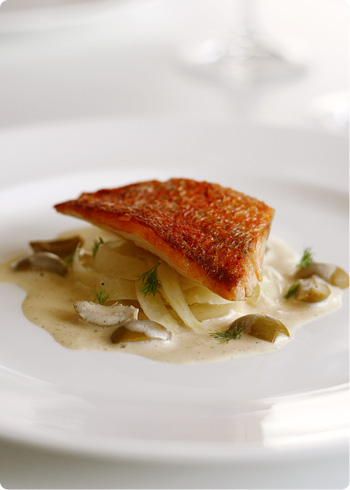 ... and Now for Something Fishy...
23 February 2006
When I was in Japan (where I am from), I never appreciated the fact that you can get very fresh fish/seafood anytime. Although they have really good meat too, fish is an essential ingredient of much of our cooking (don't think we only eat raw fish, we have lots of cooked fish dishes too :)) and is something we can't live without. I realised that I was taking this for granted when I started living in the UK, where even though it's surrounded by the sea just like Japan, fish isn't the staple that it is there. Luckily we can get very good fish from local markets, but I must say the variety is quite limited. I'm quite adaptable when it comes to food, but I've been missing fish and especially seafood. So I was happy for the chance to cook a very fishy meal when an 'eat fish but not meat' vegetarian friend stayed with us.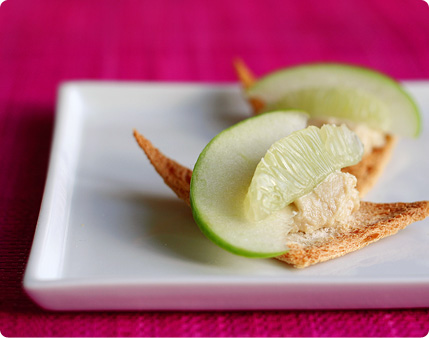 For nibbles, I made smoked mackerel pate with apple and lime – I don't normally like strong smoky flavours, but this oily fishy pate was tempered by the tangy Granny Smith apple and lime juice. Really refreshing and lovely with the crusty melba toast too.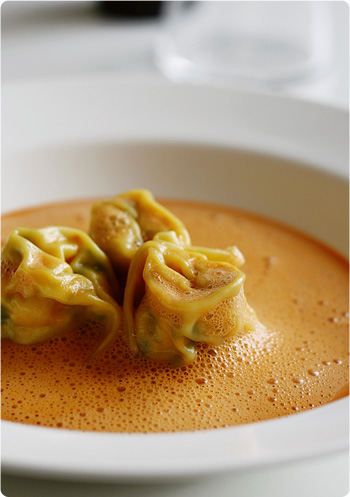 Salmon and prawn tortellini in ginger prawn bisque
I love shellfish and bisque is always my favourite. I roasted the prawn shells first, then cooked with vegetables, herbs, spices as well as grated ginger to make the base for the soup. For the tortellini filling, I used chopped salmon and prawns together with salmon paste and basil. The recipe suggests using wonton wrappers instead of fresh pasta – I often make wonton myself so I did it that way, and I was very happy with the result :) I wasn't so sure about the salmon and prawn combination at first, but they married wonderfully with the sweetness of the soup – the slight heat from the ginger and lemon juice balance them out. They melt in your mouth and are really delicious!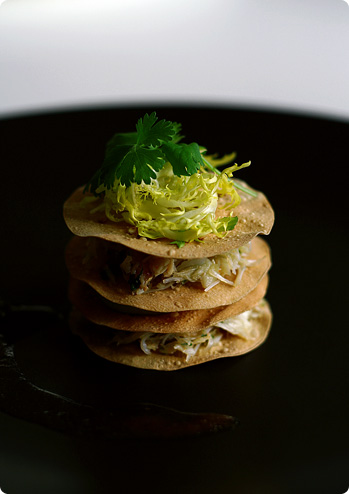 Crab with avocado and sesame filo wafers
It was good fun to make (especially the assembling :)) – roasted white sesame seeds sprinkled onto filo wafers add an interesting texture as well as flavour. You can't see very well in the picture but I piped the avocado cream (avocado puree, creme fraiche and lemon juice) onto one of the filo layers. I'm not a big fan of avocado normally, but the coriander (quite a lot dressed with the crab meat, as well as the salad) and tomato dressing make this classic combination more interesting.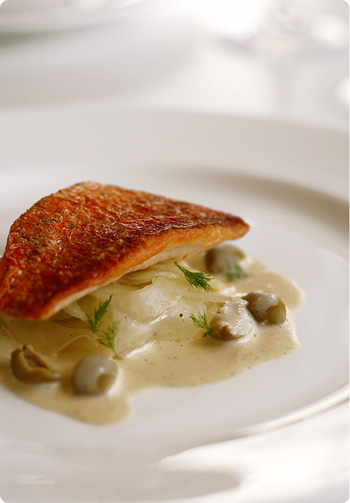 Red mullet on fennel with vanilla and olive sauce
Another classic combination – to make the vanilla and olive sauce, cook sliced fennel in butter (keep some for the salad), add olives (with the stones removed), vanilla beans then cook in vegetable stock until reduced by half. Add a little cream at the end and strain. Although it tasted lovely, I might prefer it with a more mild fish like sea bass next time.
All the recipes for these dishes are from this beautiful book.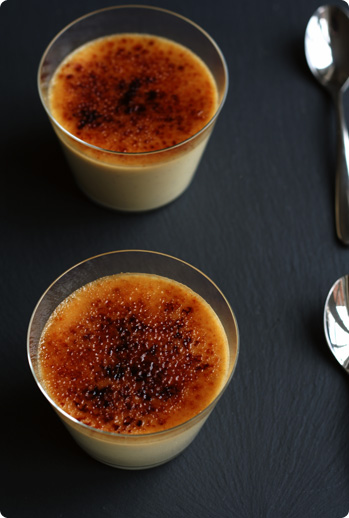 Lime and ginger creme brulee
I found the recipe in the Tetsuya book – although it's called creme brulee, it's not cooked and the cream is just set in the fridge. Since the custard has lime juice besides the grated ginger and lime zest, it's very light in taste and still works well with the caramelised brown sugar. I served it with vanilla cinnamon poached pears – a very simple but satisfying dessert.