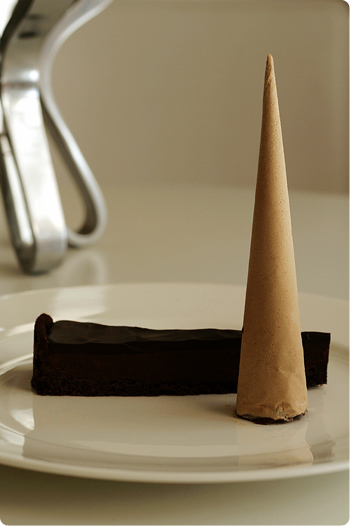 Chocolate Mocha Tart with Espresso Ice-cream Cones
5 March 2006
This is for someone who seriously loves coffee AND chocolate – I've been wanting to try the recipe since I bought this book a long time ago. I was obviously attracted by the presentation but the recipe itself sounded interesting enough, I'm not normally a big fan of tarts, but loved this tart crust which is more crumbly than a typical one. The dough is quite wet when mixed, you don't refrigerate or roll it as its crumbly texture makes it difficult – you just press it into the mould and rest it in the fridge for about an hour. The filling has two layers – dark chocolate ganache and coffee flavoured milk chocolate ganache on top. I found them a little too rich and heavy, but the espresso ice-cream tempers and complements it.
The recipe suggests using coffee essence for both the tart filling and ice-cream, but I made my espresso stronger and they both tasted fine. I was supposed to use metal pastry horn moulds to shape the ice-cream – I have some but they seemed a little too fat for the size of the tart ring I was using :) So I made thinner cone shapes with baking paper and made the ice-cream a little softer than normal, then piped into the moulds. Even after freezing them for a long time, it was tricky to peel the paper without destroying the tips, and as you can imagine as soon as I started taking pictures it began to wilt! Unfortunately, the end result doesn't have quite the clean geometric lines of the original in the book that I was aiming for, but it did taste good. My espresso machine worked even harder than normal when I was making this, and the aroma filling the kitchen made me even happier :)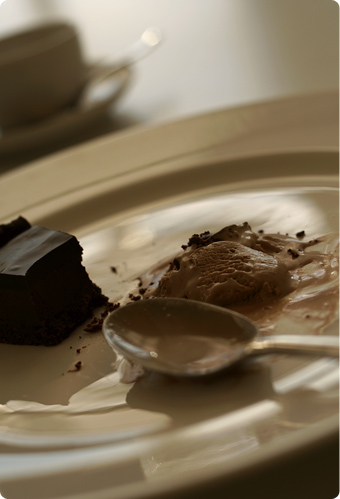 Speaking of coffee, I've just got a dessert book written by a Japanese patissier Hironobu Tsujiguchi – he is known as being quite adventurous :) and has recently invented 'micro coffee powder' called Caférine (café + farine). It's still on its way from Japan but is supposed to impart a more real coffee taste to desserts than you can get using instant coffee. I shall report back when I get hold of some!