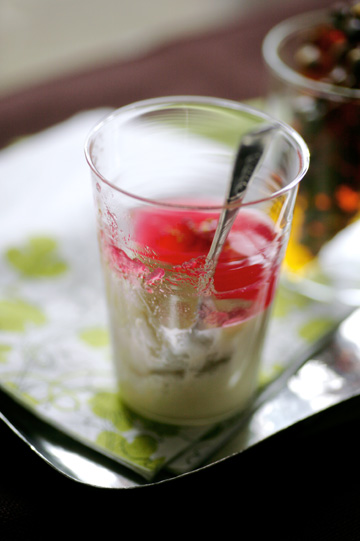 Rose Scented Rhubarb Jelly with Pistachio Mousse
17 March 2009
Apologies again for leaving this space for so long – while I was AWOL, the spring has arrived, the flowers have been blossoming and our cat has been moulting… We started some work on our little house a while ago – doing everything ourselves means that we only have the time after work or weekends, so the progress is very slow and we're constantly tired, but at least we have the kitchen and bathroom intact this time, so I guess it's not as bad as it could be…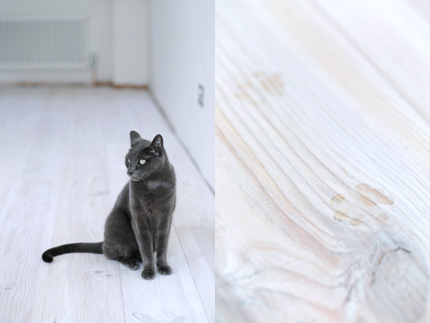 We've knocked down some of the walls to make a bigger room and now trying to lay the flooring down – we're trying to achieve this Scandinavian finish without spending lots of money, but it has turned out to be quite tricky to get right (and Maya is giving us a 'helping hand' in his own way)...
Anyway, I won't bore you with all our DIY details! It's quite sad to have been missing the gorgeous spring weather while doing this – so I was happy to manage to make this dessert with some of my favourite spring bounties, rhubarb and strawberries.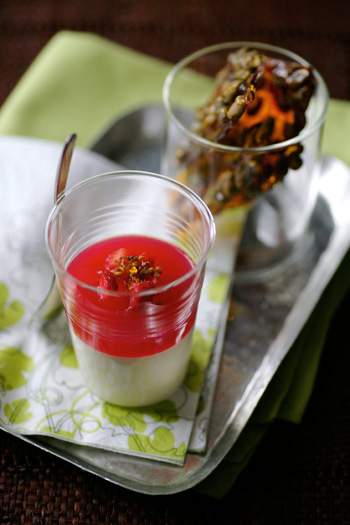 I'm fairly new to the wonderful world of rhubarb :) but since I first tried it, I've become a quick convert. While I love the combination of rhubarb & custard, I felt like trying something with a little twist this time, basing the flavours on this dessert I made from one of my all time favourite books, The Last Course.
In her recipe, I loved how the pistachio flavour played with the rhubarb and strawberry so I decided to lend more prominence to my favourite nut, using it as one of the main components of the mousse as well as making praline with it. I wanted the dessert as light and delicate as possible, so went for a jelly recipe using the rhubarb, which helped to preserve its clean fresh flavour – a floral hint from rose water and a little heat from ginger worked very well too. In order to balance the delicate flavour of the jelly, I've made the pistachio mousse lighter and more subtle than this version – it's important to use good quality nuts, my favourites are Sicilian and Iranian.
To give it more flavour and texture, I added strawberries that are macerated with a few drops of rose water, and also pistachio praline. I love anything with praline, and I admit that I was quite mean in the picture sprinkling it just a tiny amount, but it does taste better if you are more generous with the crunch :)
Hope you enjoy this dessert as much as I did – and I'll try to get back to your comments soon, thank you all for being patient.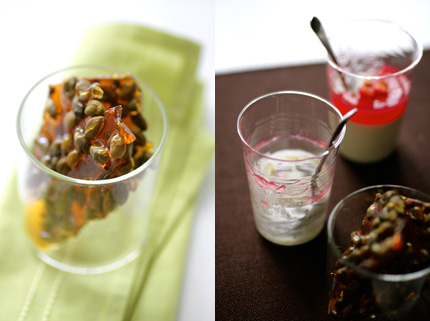 Rose scented rhubarb jelly with pistachio mousse, rose macerated strawberries and pistachio praline

Serves 4-6
For the pistachio mousse
*Start by making pistachio paste, whiz 30g pistachio in a food processor until very fine, add 20g caster sugar and blend in. This makes a little more than you need for the mousse but it's difficult to make a smaller quantity than this.
140g double cream
30g pistachio paste*
220ml whole milk
50g egg yolks (about 2 medium-large yolks)
60g sugar
3g gelatine leaves
Lightly whip the double cream and keep in the fridge. Soak the gelatine in cold water.
In a saucepan, loosen the pistachio paste with a little milk, then add the rest and bring to the boil.
In a bowl, whisk the egg yolks and the sugar until pale. Stir the warm milk mixture in, then put back in the pan and stir on a medium heat until the custard thickens and you can see a trail as you whisk. Strain through a fine sieve into a clean bowl.
Squeeze the gelatine out and melt in the warm mixture. Cool slightly.
Lightly stir the double cream again, fold gently into the custard mixture with a spatula. Pour into your choice of moulds/glasses and lightly set in the fridge.

For the rose scented rhubarb jelly
400g rhubarb
(large) thumb-sized chunk of ginger, peeled and finely sliced
130g caster sugar
3g gelatine leaves
1 teaspoon good quality rose water (my favourite is Mymoune)
Soak the gelatine in cold water.
Wash the rhubarb and trim the leaves and ends. Chop roughly (about 1cm) and place in a saucepan with the ginger, sugar and 100ml of water. Cover and simmer on a medium heat for about 10 minutes or until the rhubarb is soft enough to mash.
Strain the rhubarb through a fine sieve. Squeeze the gelatine out and melt in the warm rhubarb syrup. Add the rose water when slightly cool.
Wait until the jelly has just started set – by this time, the mousse should be set enough for you to pour the jelly on top and then return to the fridge to set the jelly.

For the pistachio praline
50g pistachio
100g sugar
Roast the nuts on a roasting tray for about 8-10 minutes at 180ºC shaking the tray a couple of times.
To make the caramel, melt the sugar in a saucepan over a medium heat without stirring until it turns into a golden brown caramel. Add the roasted nuts, then pour onto baking paper. Leave to set and roughly chop when cool. (Again, this is more than you need for this recipe but it is difficult to make less, so keep the rest in an airtight container until needed. Or you can keep it for longer in the freezer.)

For the rose macerated strawberries
About 10 strawberries (or more if you like)
a little sugar and rose water
Finely chop the strawberries, toss together with a little sugar and a few drops of rose water and leave to stand for about half an hour.