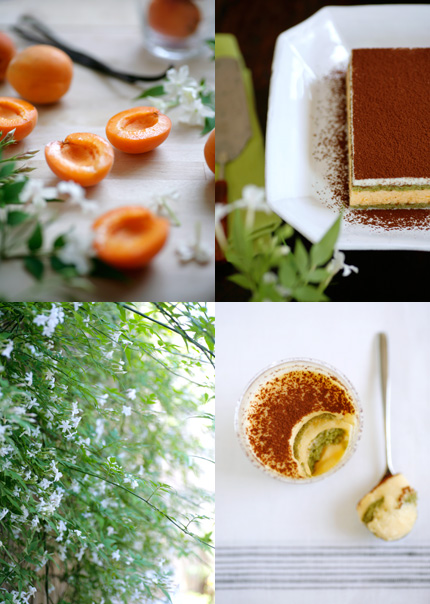 Apricot and Matcha Tiramisu
6 July 2009
We're in the middle of a heat wave, as if trying to make up for the disappointing last couple of summers – although I'm not complaining (except when I'm on the tube) – it really is lovely to enjoy the hot and long days (and I can actually wear some cute summer dresses that I bought a couple of years ago and never had a chance to even take out from the wardrobe!). Summer wasn't my favourite season when I was in Japan (although I sometimes miss those fireworks and the really humid nights…) but here in the UK, it definitely is – and it's wonderful to be able to enjoy the abundance of fruits and vegetables at this time of year.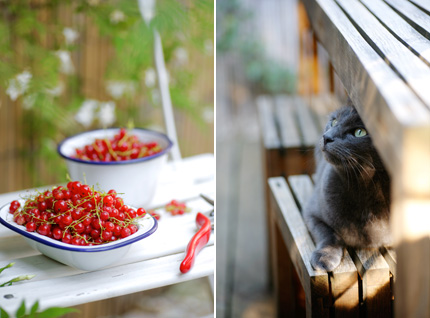 Encouraged by this hot weather, the plants and flowers are thriving in our little garden too. A jasmine tree that our friend gave us a few years ago has flowered prolifically this year, perfuming the garden with a heavenly scent (aren't those delicate little white flowers just beautiful…). I had a really good harvest on my red currants too – they were sent to my ice cream machine straight away to be made into a tangy sorbet :)
Apricots aren't my first choice when it comes to summer fruits, but they taste really lovely in this dessert and I wanted to share the recipe, the original version of which is from one of my favourite Japanese books (I think now sadly out of print). I've been making it with tinned apricots as the recipe suggests and it's always turned out delicious – but I wanted to try with fresh fruit this time.
Although I named it tiramisu, it's not really like the 'standard' one you might think of. It's more of an apricot mousse cake with matcha sponge topped with mascarpone cream and a dusting of cocoa powder. The combination may not sound very convincing, but each component has quite a subtle flavour and it's very light. I've noticed that fresh apricots lend a stronger taste to the mousse than tinned – I actually liked them both, but if you're using tinned you probably don't need to add the sugar in the mascarpone cream. Also, if you're using fresh you can omit the vanilla if you prefer a 'purer' apricot flavour. I admit that it's not as easy as making tiramisu, but it is delicious and I hope you'll have a go sometime :)


This isn't strictly food related, but I wanted to share some snaps from my friends Alastair and Jane's beautiful South London home – I've known them since last summer when I was invited to their lovely place in Portugal. It was wonderful to visit them here in London and to meet all the family – including Rosie (the doggy) and Bea (the kitty).


Their house is filled with beautiful light, and as a fan of clean and simple interiors myself, I was ooh-ing and aah-ing at everything, including those vintage Ercol chairs I've been after! It's no surprise that their place looks so beautiful – Jane has been working as an interior design journalist for a long time, and her magic touch makes their house always in demand for location shoots (including the BBC's Lead Balloon – kind of a UK version of Curb Your Enthusiasm, but more cynical and very funny in its own right).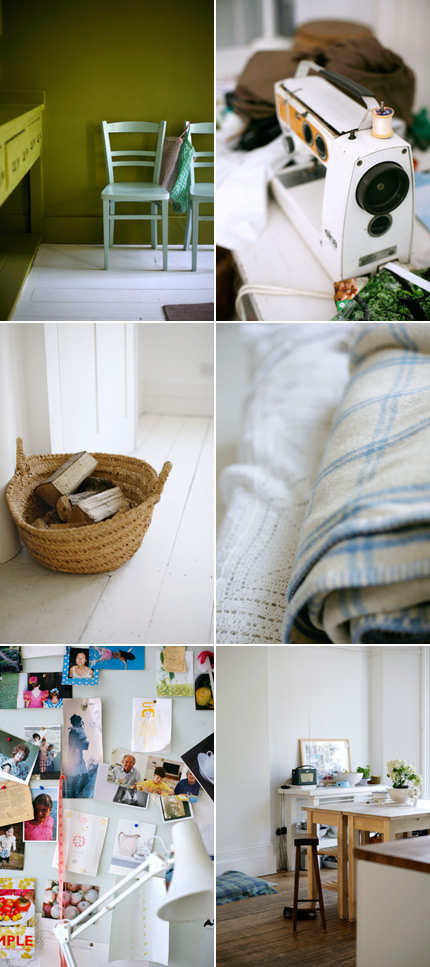 Jane is working on a new book at the moment and I can't wait to read a copy – her blog is always an inspiration with her beautiful writing and images too. She is a wonderful cook (she grows many things in her garden) and I'm hoping to do some cookery sessions in their beautiful kitchen on my next visit…
I hope you are enjoying the glorious summer too (or whatever season you are in) and that I can post some more delicious summer recipes before too long. Oh and before I go, if you have a chance have a look at my interview on the Times website.

Apricot and Matcha Tiramisu

makes about 1 × 25cm square
For the matcha sponge
2 large eggs
60g caster sugar
60g plain flour
3g matcha
15ml whole milk
10g unsalted butter, melted and cooled
For the apricot mousse
350g apricots (after pitting)
250ml water
100g sugar
1 vanilla bean (cut lengthways and scrape the seeds out)
4g gelatine sheet
150ml double cream
2 egg whites
75g caster sugar
For the mascarpone cream
100ml double cream
15g caster sugar (you may not need it if you're using tinned apricots)
30g mascarpone cheese

To make the matcha sponge, preheat the oven at 170ºC. Sift the flour and matcha together. Mix the eggs and sugar in a bowl and place on a bain marie, constantly whisking. Take the bowl off when it's around 35ºC (warm but not hot when you touch the bottom of the bowl) and continue whisking until ribbon stage (when the mixture leaves trails as it falls from your whisk).
Carefully add the milk – try not to lose the texture by eg pouring it slowly over a wooden spoon rather than directly into the mixture. Gently fold the flour and matcha, followed by the melted butter, in the same way.
Spread the batter thinly on a baking sheet and bake for about 12-13 minutes or until firm and dry to touch. Set aside and cool.
To make the apricot mousse, soak the gelatine in cold water. Place the water, 100g sugar and vanilla seeds (as well as the pod) in a saucepan over medium heat. When the sugar has dissolved, add the apricots and simmer for about 5 minutes until just tender. When cool, strain the apricots through a fine sieve (you'll get about 250g puree) and add 50ml syrup from the pan. Reserve some syrup and discard the solids.
(If you're using tinned apricots, puree 250g fruit and strain through a fine sieve, then add 50ml syrup from the tin. Reserve some syrup for soaking the sponge.)
Squeeze out the gelatine, melt in a bain marie and stir into the puree. Whip the double cream into soft peaks (it's important that the puree and cream have a similar consistency). Make the meringue with the egg whites and 75g sugar – whip the egg white until foamy, add the sugar a little at a time, whipping as you go along. When the puree is slightly set, gently fold the cream and meringue into it.
To make the mascarpone cream, place the double cream and sugar in a bowl and whip into soft peaks then mix the cheese in.
To assemble the cake, cut two pieces of sponge to the size of your mould (I used a 25cm square ring). Place the sponge in the mould as a base and brush with the left over syrup, pour the mousse, then place the other sponge on top.
Freeze the cake until firm enough to slice (you don't need to but it helps to cut neatly), layer the mascarpone cream on top and dust with cocoa powder just before serving.