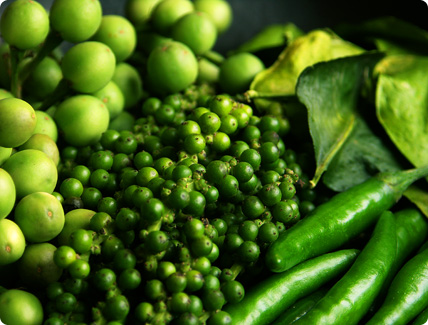 Still in a Green Mood... Hot, Fragrant and Lively Curry
19 August 2005
I'm sure everyone has their own green curry recipe – and mine is from the book Appetite by Nigel Slater (he has a very similar recipe in Real Food too). I must say that I'm not sure about the way he talks (!) but I like his unpretentious approach to food (and I love his book Toast too). This curry is really fragrant and refreshing at the same time – I got hold of some fresh Thai aubergines and green peppercorns from here (posted about it before) this time. I like using chicken with some vegetables for this curry, but it's totally up to you and it's really nice just with vegetables too. Although it seems like the summer has gone in the UK, this is a really good dish to have in hot weather.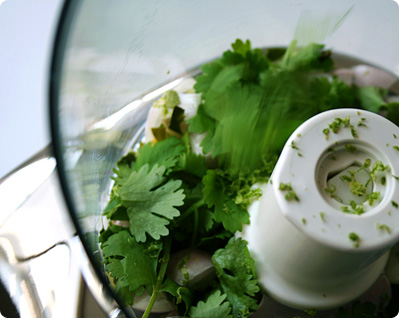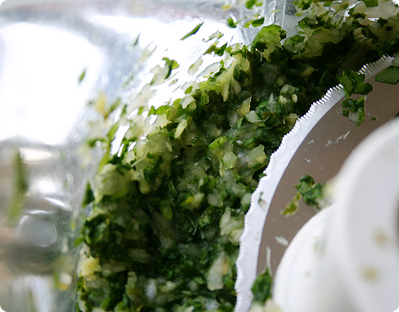 Serves 4
Green Curry Paste
4 stalks of lemon grass, inside leaves only
5 small green chillies, seeded (you can go hotter if you like)
3 cloves of garlic
A thumb of galangal or ginger
2 shallots
A fistful of coriander leaves
1 tablespoon lime zest
4-5 kaffir lime leaves
1 tablespoon lime juice
1 tablespoon nam pla (fish sauce)
1/2 teaspoon black peppercorns, ground

For the Curry
400g chicken thighs
1/2 butternut squash
4 small aubergines
3-4 Shiitake (or chestnut) mushrooms
100g bamboo shoots
300ml coconut milk
500ml stock
1 tablespoon nam pla
A palmful of green peppercorns (fresh if you can find them)
A handful of coriander leaves
A handful of Thai (or normal) basil leaves
 
Chop the ingredients for the paste and whiz in a food processor (don't go too far, it should still be a coarse paste, not a puree)
Fry your choice of meat/veg with oil in a pan and add about half of the paste. Pour in the stock, coconut milk and fish sauce, scatter in the green peppercorns and cook until the vegetables are tender (if you use mushrooms and bamboo shoots, add them later on as they don't need to be cooked very long). Add the rest of the paste and simmer for another a couple of minutes. Scatter the herbs over and serve with rice.
 
I adapted the recipe, so feel free to adjust the amount of coconut milk and stock to suit your taste (the original recipe uses equal amounts of both). You can of course use seafood/fish instead of meat; you just need to add it towards the end of the cooking as it doesn't need to be cooked as long as the vegetables.