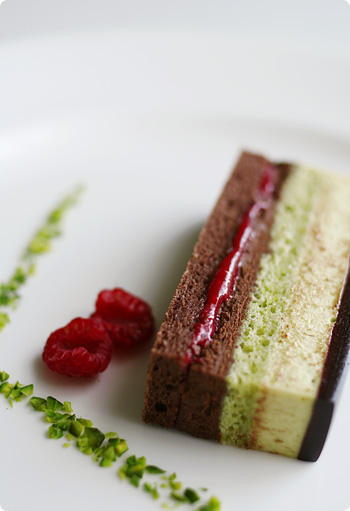 Ambroisie - Refined
25 May 2006
I ended up making this dessert after thinking about a pistachio opera cake from this book. I was looking forward to making it, but as soon as I started reading the recipe my enthusiasm wore off – I didn't like the unclear description of the ingredients (it assumes you know everything about pastry making) and the recipe itself wasn't very well-written either. I'm sure I could have managed, but I started thinking that I'd rather make something lighter (I always find opera cake a bit too heavy) but still using pistachios.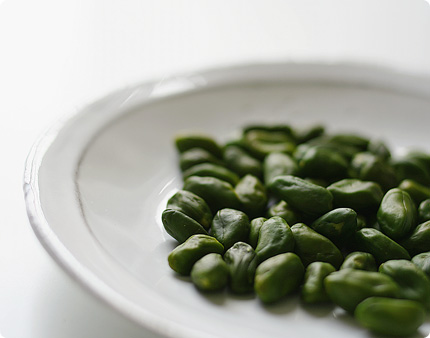 I recently got a couple of big bags of Iranian pistachios here – their colour is so vivid, I was amazed when I made paste from them – it was so green and fragrant! I've actually made this dessert before, but I was in a bit of hurry then and skipped some bits so wanted to make it again properly. It's called Ambroisie and one of the most popular desserts at Hidemi Sugino shop in Tokyo. I like his book – some of the techniques are quite advanced, but the explanations are good – all of the recipes have step-by-step pictures, as well as French spelling for all the ingredients.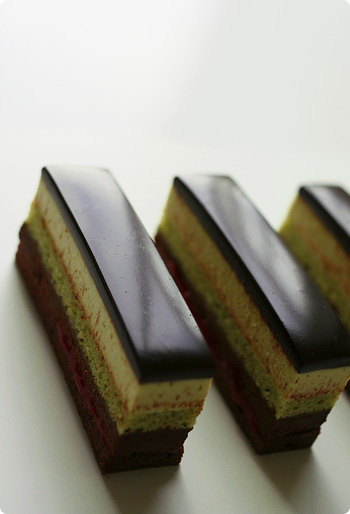 I made two sponges first – chocolate/almond, and pistachio/almond flavours. For the pistachio sponge, he suggests using corn starch instead of plain flour in order to get a lighter texture – it was delicious on its own – he was right about the texture and I loved the rich nutty flavour.
Next is the two mousses – again, chocolate and pistachio flavours. For the pistachio mousse, make custard with vanilla and pistachio paste, then add gelatine and lightly whipped double cream at the end (he suggested using paler egg yolks to keep the green colour, but you wouldn't know until you crack the egg…) I remember the chocolate mousse was a little rich last time I made it, so I added some almond praline (powdered in a processor), it turned out to be quite a nice touch :)
In the original recipe, the whole cake was encased in the chocolate mousse using a ring mould (you can see better here than me trying to explain in bad English), but I wanted to give it of a Sadaharu Aoki touch :) so used a square mould and sandwiched all the layers. I also spread raspberry jam (cooked with sugar and lemon juice, then seeds strained out) between the chocolate sponge and mousse. Freeze the cake and when set, pour the chocolate glaze (made with cocoa powder, not chocolate) over.
I tried to make the same amount of each component (the recipe has more chocolate mousse) and I think it helped to keep the whole cake very light in both flavour and texture. You don't want to overpower the delicate pistachio flavour with too much chocolate. So after all, this version turned out well – I'd like to try it with other summer fruits when they are in season.
Oh and for some reason our (ultra naughty) cat was very interested in the pistachios – I thought he just wanted to play with them but he actually stole a couple from the kitchen and ate them! I just hope they aren't bad for him…