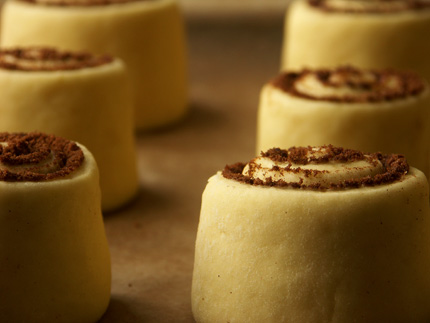 Cinnabon-ish trial
3 February 2005
Matthew has got such a sweet tooth and loves Cinnabon – however, it costs £2.5 (almost $5) for a roll here and I thought that was outrageous! Therefore I decided to make them myself.
I've made this 'American favourite' lots of times before, but I had to try it again with my new shiny KitchenAid. I've been using this recipe as I think it works well and tastes quite similar to the original (although I must say that it is a bit too detailed and I've taken some ingredients out or substituted. There seem to be lots of similar Cinnabon clone recipes) I do think their idea of using floss for cutting dough is great though (but I don't think cinnamon flavour floss is necessary).
Before I got the KitchenAid, I had to add more flour (or less liquid) into the dough than it says in the recipe as it was so sticky that I simply couldn't handle it. During my first dough hook trial I was so excited that I called Matthew to come and watch how it was going! It went pretty well and it was very quick! I used the whisk to make the frosting too, and so the whole process was much quicker than it used to be pre-KitchenAid. I'm not sure if this type of mixer works very well when you need a delicate touch for fine pastry etc, but it's very useful for making meringue or kneading dough. I'm going to order an extra bowl as it'd definitely be handy when you need to work on more than one thing at the same time.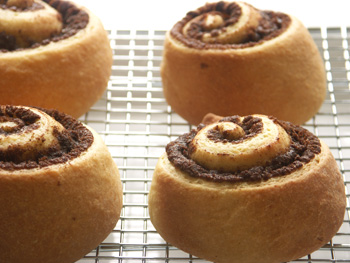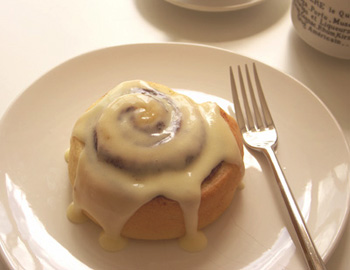 Oh, and I got a complimentary book with the mixer – it's called The Ultimate Mixer Cookbook and tells you about what you can do with it. Although it seems that they try to do almost everything with the mixer – which I'm sure ends up more awkward than doing some things by hand – there are quite a few interesting recipes and I think I'm going to try some of them.
At the moment, I feel like an American domestic goddess (like Bree in Desperate Housewives) !
Speaking of Cinnabon, I tried Krispy Kreme doughnuts the other day. They were pretty good, but again, a bit too expensive – especially in the UK.