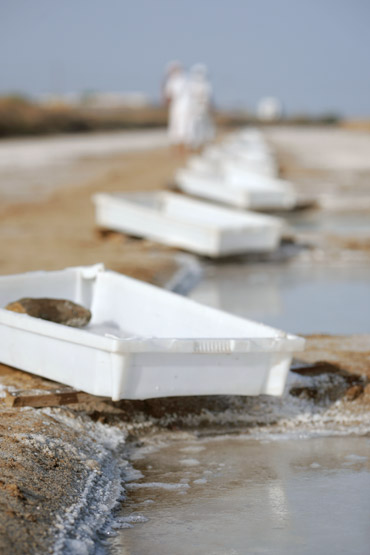 At the Special Corner of the Iberian Peninsula
26 September 2008
My blog is becoming more like a seasonal newsletter rather than a blog (!) – I didn't mean to leave it so long, but thank you for all your kind notes asking how I've been/where I've gone. I've been busy working on some exciting projects, hopefully I can share some of the stories here soon.
It's been nearly two months since I came back from a wonderful trip to Spain and Portugal – although my tan has faded in this already-late-autumn weather in the UK, my fond memories haven't :)
Since I moved to the UK nearly 10 years ago, I've enjoyed discovering lots of types of food from all over Europe. In particular, I seem to have a soft spot for Spanish food – evident from the fact that a fair amount of room on my cookbook shelves is occupied by Spanish and Portuguese cuisine (I'm especially fond of these Moorish influenced books – and this gorgeous new addition is becoming my favourite too)
I have been to Barcelona a couple of times, but it was my first visit to Madrid and further south, Andalucia. When I originally planned the trip, it was supposed to be just a short stay in Madrid to attend my friend Tomoka's wedding – I first met her when we were studying in London but hadn't seen each other for a long time so I was looking forward to the trip.
Then I was thrilled to receive a lovely email from a British gentleman called Alastair from Sierra Rica, a fantastic organic food company in Aracena, Andalucia. I've been a big fan of their products for a long time since I first tried their organic chestnuts. Alastair's love affair with Spain had started long ago, but about 10 years ago he decided to quit his job in London and moved to Aracena where he started the company.
After seeing my posts about chestnut desserts, he asked me if it'd be OK to put some of my images on their website – and kindly invited me to come over to Aracena. I can't explain it well, but I knew straight away that I would accept his invitation – just swapping a few emails, I could tell how passionate he is about good local produce, and his wonderful, warm personality ensured that my trip was soon extended :)


I spent my first few days in Madrid; although it was a short stay, I had a lovely time in the city and it was great that my friend Aya could fly over from Tokyo for Tomoka's wedding. The reception was lovely – very much in a Spanish style – everyone was enjoying dancing even after 3am…
We couldn't have enjoyed our stay in the city as much without help from my lovely friend Yuly – we had been swapping emails for a while and I was looking forward to meeting her in person on this trip.
As I mentioned earlier, Spanish food is definitely my favourite – the simplicity of cooking and the emphasis on quality of ingredients is reminiscent of Japanese food. Another reason I love Spanish food is that, as Japanese, we enjoy sharing lots of small dishes so Izakaya style Tapas is something that appeals to us – we concentrated on that style of eating during our stay :)


I remember enjoying a lot of great seafood in Barcelona – I'm obviously a big seafood fan (just like other Japanese folks), but wasn't sure what Madrid would offer. It turned out that, being as capital, the city has a great choice of cuisine from all over Spain. As well as general Tapas bars, we tried some specialised Tapas places where they focus on a specific ingredient – from sardines, anchovies, prawns, octopus, mushrooms, tortillas and so on… We absolutely loved crawling between these small bars with lots of local beer to go with the food – I could tell my jeans were getting tighter and tighter every day…!
Yuly took us to some gorgeous shops around town too – including Helena Rohner (my long time favourite), Pez, Oliphant and Mamblona (many of them are in the hip Chueca area). I've always loved the Spanish culture – design, architecture, films and so on – and it was great to have a great guide who knows the city and could show us the best of it. Thanks again, Yuly!


After saying farewell to Yuly and Aya, I headed to Seville. It takes only two hours from Madrid on the AVE train, as I looked out the window I could tell by the changing scenery that I was heading very south. Andalucia is the most southern part of Spain and has a colourful history, with many cultures leaving their mark – there is especially a strong Islamic influence.
As soon as I got off the train, I could feel the air was much hotter than Madrid. I remember the temperature rose to the mid forties (centigrade!) every day – a scary number if you're used to the mild British summer, but it was surprisingly dry, and I had kind of acclimatised myself in Madrid which helped.
Alastair's friend Michael kindly took me the hour and a half drive from Seville to Aracena, where Sierra Rica is based. He gave me a wonderful (and witty) tour and as we drove up La Sierra de Aracena, the landscape became much greener, you can see little villages on the hills with beautiful Andalucian white walls.


Aracena is a lovely little town in the Huelva region of Andalucia. Before I arrived, Alastair had specifically told me as little as possible about the town – he thought I should experience it for myself when I got there; I think he knew I would fall in love with this special little town, and I certainly did :)
Alastair, along with Janet who has been working with him since Sierra Rica started (and also pampered me throughout my stay), took me for breakfast every morning. We went to a bar that serves a great open sandwich with hand sliced ham, freshly pureed tomato and a drizzle of olive oil.


The region is famous for Jamon Iberico – which comes from black Iberian pigs (with black hooves aka pata negra). The ham is graded to according to how much of their diet consists of acorns (bellota). In this region, traditional annual pig slaughter – called Matanza – is still practiced. As you know if you have ever tasted the ham, the rich dark meat has a wonderful strong flavour and the heavenly fat melts in your mouth – once you've tasted it, I don't think you can really go back to any other ham, it is that good. It's actually not difficult to find it in the UK, but you obviously pay a lot more.
I loved Alastair's description of those Iberian pigs' legs being sexy and slender :) I was hoping to see some pigs munching acorns under the oak tress (it was interesting to see cork being harvested from the trees, apparently they can collect it every ten years), but it seemed too hot even for them to come out in the heat when humans are taking a siesta!
So the gorgeous open sandwich became my favourite instantly – in the end Alastair stopped asking me what I wanted, I was just happy to start my day with one…
I had a chance to visit the Sierra Rica factory too – they are not big, and I could meet most of the staff who really are a great team. We watched a Japanese TV programme about Matanza that was filmed in a nearby village of Jabugo a little while ago. Some of the Sierra Rica members made an appearance in the film and I'm glad they thought that the Japanese crew did a good job :)
Alastair let me taste some of their products that I haven't tried before – I loved them all, especially the extra virgin olive oil from near Cordoba – I am a big fan of Spanish olive oils and this was no exception, you can taste their passion and love, that's what I like about their products :)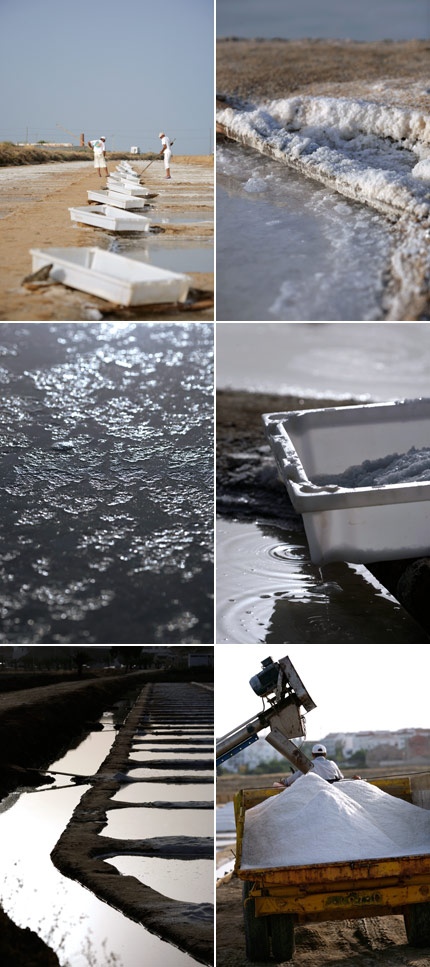 As well as exploring the town, I enjoyed some excursions too. Alastair took me to a beautiful border town of Tavira in Portugal, where his friend Rui produces salt which Alastair sells through Sierra Rica.
I've never visited a salt pond before and was quite excited about it. Rui, the owner, has been running the place for generations and showed me how the salt pond works. It wasn't rocket science as you can probably imagine, but I just fell in love with the beauty of the place and the whole delicate process.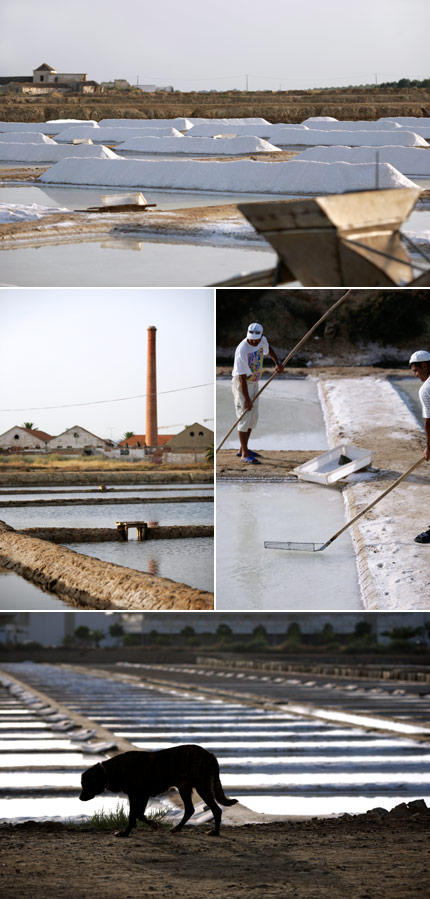 Almost everything you see at Rui's place was handmade and old-fashioned – taste-wise, I agree with Alastair that Rui's salt has a certain cleanness, yet complexity, over other salts – it has a slightly sweet aftertaste. We brought a packet of Maldon for him to try, which didn't impress him too much – Rui thinks the production is too big!
I remember taking many pictures there – I thought the place was just beautiful and every element and shape inspired me.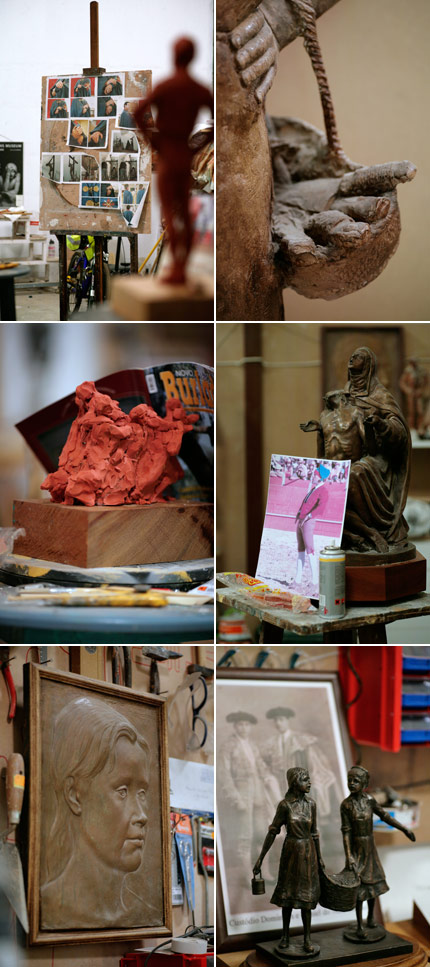 I also had the pleasure meeting with some other artisans. We visited the studio of Alberto German who is an acclaimed sculptor based in Aracena whose subjects often include bullfighters as well as religious icons. I love being in a workshop of any kind – I used to do work in which I spent lots of time in a workshop, so I always feel at home in one.
Alberto kindly told me that he wouldn't mind if I took some pictures – his work is highly beautiful and evocative so I didn't feel that my quick snaps would do it justice; rather, I just tried to capture the atmosphere of the studio which I hope reflects his charming personality.
I also had the pleasure of meeting a food writer and presenter Maria Jose Sevilla and her lovely husband David. We enjoyed a lunch together at a transport cafe – the food was great, somewhat different from the traditional British greasy spoon! Over lunch, I learned about her work at the Spanish embassy in London, promoting Spanish food and wine in the UK as well as her new cookbook she is working on at the moment. Her passion was really contagious and her great stories made me want to travel all around Spain right away!
Alastair and I had a mission to try Salmorejo every time we ate out. Salmorejo is a soup traditionally served mainly in Andalusia – similar to Gazpacho, but much thicker because of the bread content. Every place had a slightly different texture and flavour, but topping-wise it often has chopped hard-boiled eggs and Jamon Iberico – they work wonderfully together. I'm hoping to recreate this sometime as I was given a good recipe from one of the restaurants we visited – but I just know that however hard I tried, it wouldn't taste the same – it's always the best to taste it in its place of origin…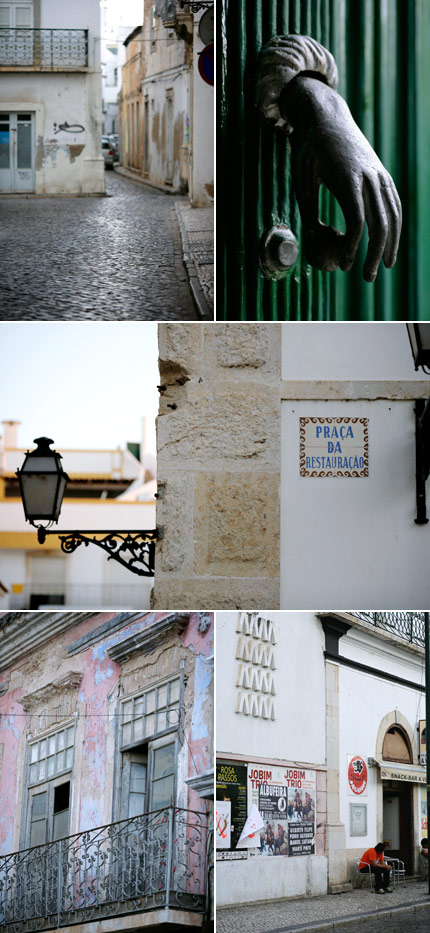 After a few wonderful days in Aracena, we headed to Portugal again for my last night – Alastair kindly let me stay with him and his family in a town of Olhao. Olhao is a beautiful old town on the Algarve coast where Alastair and his lovely wife Jane have been restoring their old townhouse they bought a couple of years ago. Jane is a great interior designer with a wealth of experience – I got too excited when Alastair told me about her, I've been a big fan of her books and gorgeous styling! So obviously Jane's magic touch is very evident in their beautiful house. Check out Jane's fabulous blog here – as you can see, she is a wonderful cook too!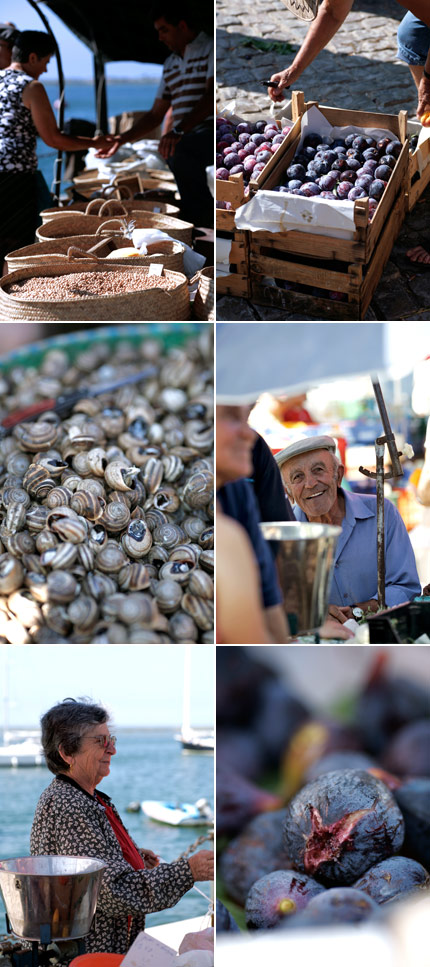 It was lovely strolling around the narrow streets in Olhao, but Alastair told me that many of the old buildings are now neglected and abandoned, which is a great shame. The next morning, we visited the market in Olhao – it was amazing, from the huge indoor fish market to the vegetable/fruit market along the seafront – I would be happy to live there just for that market :)


Although I only stayed in Portugal for a short time, I could notice the subtle differences between the Spanish and Portuguese character of people, architecture etc. I'll have to visit again and report more – I'm already planning another trip to go back to see them, maybe on a motorbike next time :)
Thank you again everyone for making me feel so at home on my trip, I'm looking forward to seeing you all again soon.