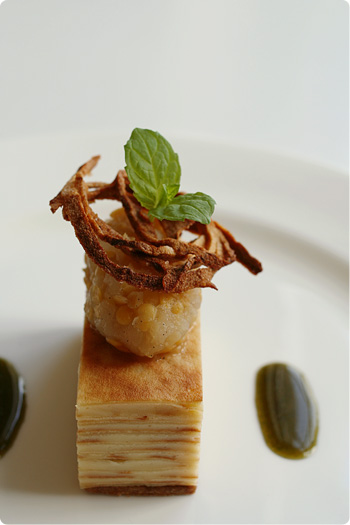 Lemon Crepaze with Red Lentil Confit
19 April 2006
I've never been a fan of crepes – I know they are just plain pancakes but I always prefer thicker fluffier sponges for some reason. Having said that, I'm gradually being converted to ingredients that I'm not normally mad about and this desserts was no exception. The recipe is from Wild Sweets by Dominique and Cindy Duby – I actually waited for almost year before getting this book – having ordered it from amazon US, they never had it in stock
and ended up having Clement send a copy for me (sincere thanks again). It's a beautiful book and as the title suggests, it's full of exotic and interesting desserts.
As well as the intriguing recipes, I also liked how clear their instructions are considering the complexity of them. I still have trouble reading US books because of the differences of the terms/measurements, but apart from that, I find some books are far more complicated than they need to be, sending you back and forwards all the time. (I think I still prefer Japanese books, most of which are accompanied by step-by-step pictures :))
Anyway, I've bookmarked quite a few recipes from the book already and chose this lemon crepaze with red lentil confit and crispy apple pasta as my first. It seemed reasonably easy to make and doesn't require any hard-to-get ingredients.
It consists of, from the bottom, lemon and mint sucrees, lemon crepaze, red lentil and apple confit, crispy apple pasta, and lemon balm emulsion for the sauce. Making sucrees was fun – basically the same as making biscuits/cookies, but for this recipe, add a little mint oil (whiz the blanched mint with grapeseed oil in the blender, then strain) and grated egg yolks (yes, grated) instead of adding raw eggs. It was delicious on its own, I normally try to avoid minty things but the subtle lemon & mint flavour was really lovely.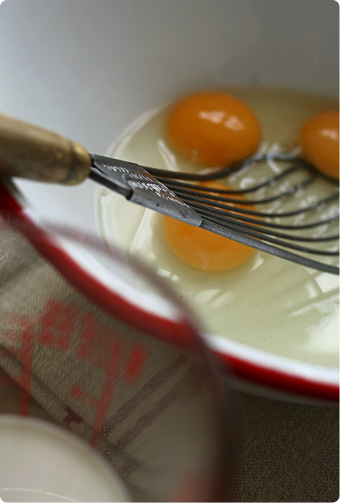 For the crepaze, make lemon-apple emulsion first – it's similar to lemon curd, but use half each of lemon and apple juice. Then make crepes as thinly as possible (I liked the idea of browning butter for the crepe batter, it adds more flavour), and alternate thin layers of emulsion and crepes evenly. Press firmly on top, and freeze (it makes cutting easier).
For the red lentil confit, cook apples (I used Granny Smith this time) in syrup with vanilla seeds, grated ginger and lemon zest until very soft, then add cooked lentils. I was sceptical about this combination even after I tasted it, but when you try the whole dessert you'll be convinced :)
For the apple pasta, cut apples into long spaghetti-like strands – as you can imagine, it is quite difficult and in the book they suggest using a Japanese turning slicer – which I've never used :) so I ended up cutting rather wide strips and in turn cutting these lengthways. Toss them with syrup (with a little lemon juice and butter) and shape, then sprinkle a little sugar and bake until dry and crispy.
For the lemon balm emulsion, combine the herb and grapeseed oil in a food processor, and with the motor running, slowly pour hot syrup until the liquid itself becomes green and then strain. They suggest using ascorbic acid to prevent herbs from turning brown when exposed to air – but I didn't have any and although it tasted fine, my emulsion not surprisingly did so…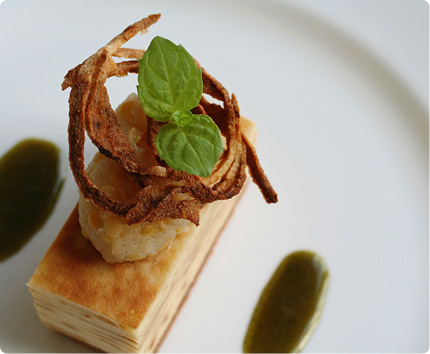 It may sound like there are too many flavours going on, but all of the components have very subtle flavours and worked well together. I really enjoyed the combination of earthy lentils and the refreshing lemon & apple flavours. It amazes me to think there are so many possibilities that I've never imagined and I'm already looking forward to trying other recipes from this book.