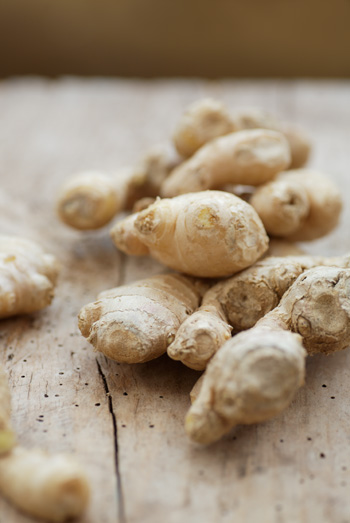 Ginger Yellow for Live Strong Day
14 April 2008
Apologies for the lack of postings lately – time really does fly, and I've been busy working on some exciting projects. Hopefully I can write about them soon, but in the meantime, I'm so glad that I made it to the Taste of Yellow event this year – as some of you already know, my dear fellow blogger Barbara has been organising this to support Live Strong Day in aid of cancer awareness.
I had a hard time deciding what to use to make yellow food, but somehow ginger came to mind – in Japan (and in many Asian countries) ginger is an everyday ingredient – much more common than garlic and very much part of our cuisine. (And I always take ginger tablets when I travel as I get really sick – it works for me and seems a good alternative to regular travel sickness tablets.)
Since I moved to the UK, I've been enjoying trying ginger in sweet recipes too – it works wonderfully well in many desserts and for someone who has a super sweet tooth like me, it was an excellent excuse to try another recipe for this great event.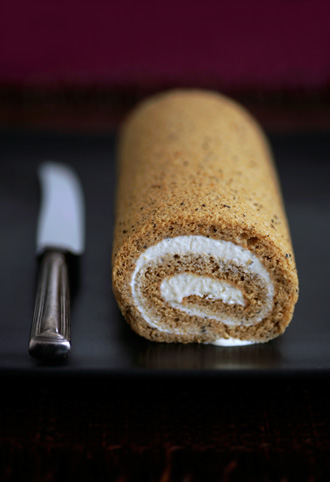 I was flipping through some of my favourite books for ideas and the first recipe that caught my eye was ginger ice-cream – I've tried a ginger and custard recipe here, so I knew it couldn't go wrong. Quite a few books have very similar recipes for ginger ice-cream, but I decided to go with the one in Eric Gower's latest book as he uses brown sugar instead of 'normal' white sugar which sounded more intriguing (his recipe uses galangal instead of ginger too).
I've been meaning to write about this book, The Breakaway Cook, which is packed with so many inspiring recipes. Eric has lived in Japan for a long time and I really like the way he interprets Japanese cooking. I'm sure I'll write about it again :) but meantime, head over to Eric's new blog to check out some of his great recipes and ideas.
So, I had the first step sorted, but I felt like experimenting a bit with the ice-cream – then came up with the idea of pairing it with earl grey tea – in a Swiss roll shape! (I was inspired by a brown sugar ice-cream chocolate roulade recipe in this book.) I wasn't sure how well the flavours would work together, but was really happy with the end result with neither overpowering the other (never mind the slightly wonky shape, the ice-cream was quite soft when I spread it so it went rather flat!). I added some ground tea leaves as well as brewed tea to the sponge which helped to offset the ginger too.
The flavours are quite subtle and it was perfect for my taste but you could make them stronger if you prefer. I made earl grey caramel sauce too, it was lovely together with the cake – rich warm sauce with the ice-cream – I indulged myself by having this dessert for breakfast…!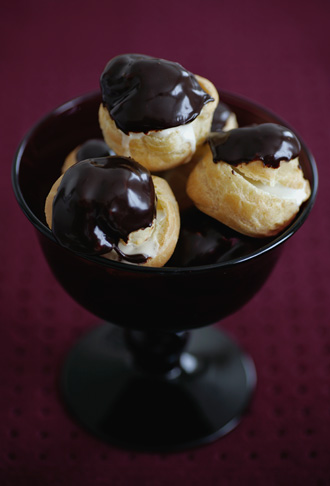 I had a little ice-cream left so rustled up some profiteroles too – you can't go wrong with ginger & chocolate, and so the cute little ice-cream puffs disappeared really quickly! I dipped the top of the choux pastry in the chocolate sauce, but you can of course pour the sauce over when you serve.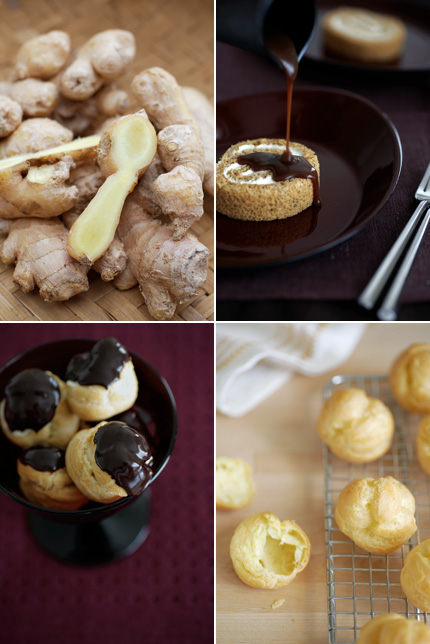 The closing date for the Taste of Yellow event is the 19th of April, so there is just a little more time – I hope you can join and I'm looking forward to reading Barbara's round-up next month!

Earl grey and ginger ice-cream roll with tea caramel sauce
Makes a roll about 25cm x 8cm
For the ginger ice-cream
NB: I used light brown sugar for the ice-cream as I suspected that dark brown sugar might overpower the other flavours – but I should try it some time.
50g peeled fresh ginger, roughly chopped
1 vanilla pod, split lengthways and seeds scraped out
250ml whole milk
250ml double cream
3 egg yolks
90g light brown sugar
For the early grey sponge
20g earl grey tea leaves
100ml water
3 medium eggs
60g caster sugar
1 teaspoon of earl grey tea leaves, ground in a blender
60g plain flour, sieved
For the earl grey caramel sauce
10g earl grey tea leaves
300ml water
60g caster sugar
100ml (about 6 tablespoons) double cream

For the ice-cream, place the milk, cream, 50g of the sugar, ginger and vanilla seeds (as well the pod) in a saucepan and bring to a simmer. Remove from the heat, cover and let steep for about 10-15 minutes. In a bowl, whisk the egg yolks and the rest of the sugar. Rewarm the milk mixture and strain into the yolk, whisking constantly. Discard the solids.
Place the mixture in a clean saucepan and put on a medium heat, constantly stirring with a wooden spoon until the custard thickens and coats the back of the spoon. Cool over ice-cold water and chill in the fridge. Churn the custard in an ice-cream machine according to the manufacturer's instructions.
For the earl grey sponge, preheat the oven to 190C. Brew 20g of tea in 100ml of water (steep for about 5 minutes or so) then strain, squeezing the leaves with a spatula. Leave to cool.
Lightly whisk the eggs in a bowl, place on a bain-marie, add the sugar and whisk until it thickens a little. Remove from the heat and whisk until it falls in ribbons (you should see the trail for a few seconds). Lightly mix the 40ml of cooled tea (the quantity after straining should be around that much) and the ground tea leaves into the egg mixture with a spatula, followed by the flour.
Place a baking sheet on a tray, spread the batter roughly into a 30cm x 25cm rectangle. Smooth over the top and bake for about 8-10 minutes. Leave to cool. (You can use this sponge recipe for any type of sponge cake and the filling doesn't have to be ice-cream.)
To assemble the cake, cut one of the shorter ends at an angle so as to taper the thickness of the sponge (this will be the outside edge, it makes it easier to seal the roll). Gently spread the ice-cream (it should be quite firm but spreadable) over the sponge with a palette knife, to about 1cm from each edge. Roll the cake along its length, finishing with the tapered edge. Cover with cling film and freeze until firm.
To make the caramel sauce, brew the tea, steep for about 10 minutes, strain the leaves (again, squeezing with a spatula) and simmer until it reduces by nearly half. Add the sugar and cook over low heat until it is syrupy; pour over the double cream carefully and whisk in.
Cut the cake into slices and serve with the warm sauce.