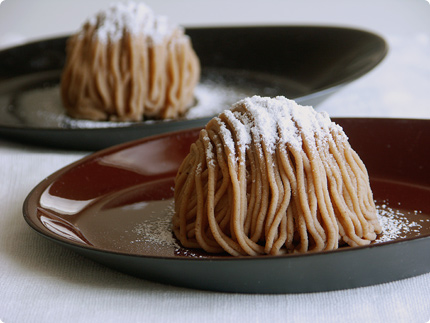 Does This Look... Scary?
27 March 2005
I can't believe this, but it must have been almost 20 years since I first had the famous Mont Blanc from Angelina patisserie – not in Paris, but when it opened in Tokyo. This dessert has been incredibly popular in Japan since then – maybe more so than Paris – but I've heard that Angelina has been sold recently.
I'm not really mad about chestnuts per se, but quite like puree when used in cakes like Mont Blanc – the sweet chestnut cream, unsweetened double cream inside and crunchy meringue at the bottom gives it a lovely texture.
I used to buy fresh chestnuts for this, but as you can imagine, it is quite hard work to go through the soak-peel process if you don't have much time (and they turn your nails brown!). I've been using Sierra Rica cooked chestnuts instead and I think they taste almost as good as fresh ones (although you still need to puree them, which is hard work…).
I've been trying to recreate the Angelina recipe, but I've been unsuccessful getting the unsweetened cream bit right. Mine doesn't quite taste like theirs (I use double cream). If anyone knows the secret, please let me have it…
I don't think this dessert is very popular in the UK – I hardly see it anywhere. Matthew gets scared when I make this – apart from the fact that he doesn't like the taste of it, he thought I was making some sort of Japanesey-noodley-sweets!