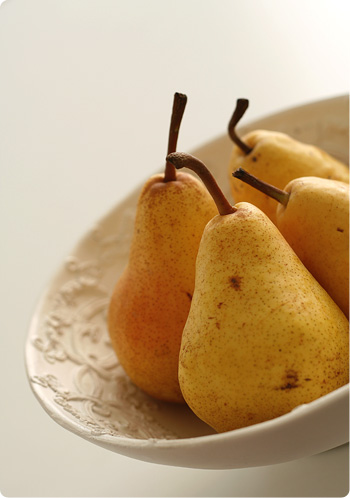 Becoming a Foodie Accidentally...
23 November 2005
This is the first recipe I've tried from my recent purchase The Accidental Foodie by Neale Whitaker. He has been the editor of Vogue Entertaining + Travel (my all time favourite magazine) for a while – but as he writes in his introduction, he never set out to be a foodie – he became one accidentally. My good friend Cheryl, who is an old friend of his, describes him as a passionate perfectionist and his careers in fashion and PR led to magazine editorships. Before he moved to Australia (he is actually English and grew up in the culinary wasteland that was 60s and 70s England), he edited the beautiful Food Illustrated (another of my all time favourites) magazine.
More than just a recipe book, this is about his journey to becoming the foodie that he is now – the book features recipes from his own food heroes, those who he has personally worked with, hence the absence of perhaps more obvious choices such as Nigella Lawson, Gordon Ramsay, Rick Stein or Fergus Henderson.
It includes a few recipes from each of more than 20 people, preceded by interviews with them – his writing is witty, honest and entertaining. Among those featured are: Nigel Slater (I absolutely loved the picture of him and his beloved cat in his kitchen!), Bill Granger, Tamasin Day-Lewis, Terence Conran, Jill Dupleix, David Thompson, Donna Hay, Peter Gordon, Claudia Roden, Antonio Carluccio, Stephanie Alexander, Neil Perry, Alastair Hendy and Jamie Oliver – all of whose recipes are gorgeously photographed by Petrina TInslay. All the recipes are fairly straightforward and they are things you can cook for an everyday meal.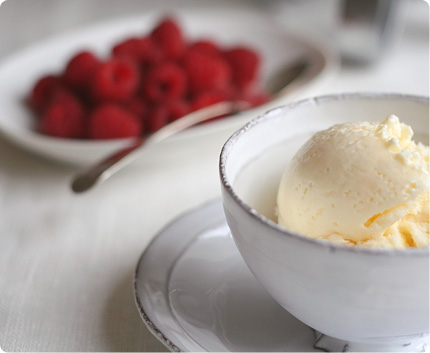 Sybil Kapoor is a food writer and has been contributing editor for, among others, Food Illustrated. I chose her lavender pear ice-cream recipe as there are so many pears around at the moment and couldn't resist them – I got hold of some very ripe William pears and I was lucky enough to have fresh lavender flowers from our garden. In the recipe, she suggests just using caster sugar but I substituted some of it for lavender honey. The fragrant flavour from lavender gives the ice-cream a subtle freshness. I loved the balance of the fruitiness and creaminess – as you know when you don't get this right, you just want fruit or cream! This is even more delicious with fresh raspberries.
 
Lavender Pear Ice-cream
Serves 6
Half pint (285ml) of double cream
3 sprigs lavender flowers (use less if using dried)
Juice of 1 lemon
3 ripe pears
4 egg yolks
140g caster sugar
1 tablespoon (preferably lavender) honey
1 tablespoon Poire Williams liqueur (optional)
 
Place the cream and lavender in a saucepan and bring to boil. Remove from heat and leave to infuse for about 30 minutes.
Squeeze the lemon juice in a non-corrosive pan. Peel, core and chop the pears, placing in the lemon juice as you go along (to stop discolouring) and simmer gently for about 10 minutes. Puree and set aside.
Whisk the egg yolks with the sugar and honey until thick and creamy. Gradually pour in the lavender cream and return to a low heat, stirring all the time until it thickens – it will take around 20 minutes but take out the lavender after the first 5 minutes. Remove from the heat and add the pear puree followed by the liqueur. Cool, chill and churn the custard in an ice-cream machine.
 
PS. This post will also be featured on Design Public's Delicious Design event.