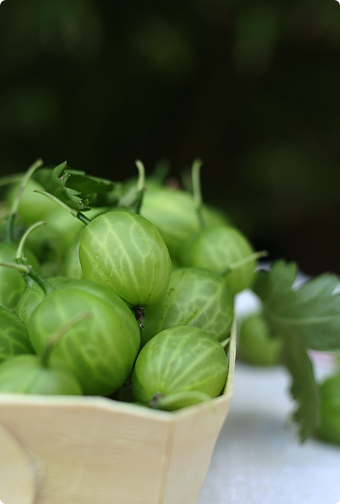 Gooseberry and Elderflower Ice-cream
29 June 2006
We've got a lovely neighbour friend who brings us all sorts of home-grown fruit and vegetables from time to time – he has had an allotment for about 5-6 years and since we moved here we enjoy paying it a visit to see what's growing.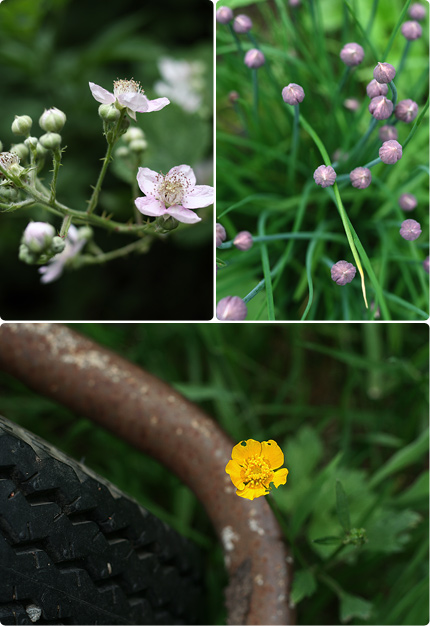 I took some pictures last time I went there – it looks lovely now everything is in bloom. We've been getting a steady supply of asparagus and strawberries recently, and I had my eye on some broad beans (I love them), peas, tomatoes, potatoes, more berries, (and quite a few apples in the autumn) which are all on their way :) The funny thing is that he loves growing things but doesn't like eating some of them – I thought he was missing the point when he said that, but now I understand that it's just another way of enjoying produce (not everyone is greedy like me).
 
He has kindly offered some space for me to grow something in there – I'd love to, definitely, but I've been lazy and so far just asked him to grow stuff for me. I started growing red/black currants this year (in my garden), they are still small trees but I'm already looking forward to trying them out. I'm definitely warming to the idea of growing my own food…
By the way, we found two rabbits dumped in a box in his allotment the other week – luckily we managed to get the RSPCA to catch them and they are now looking for a new home (we got our cat from here by the way). British people are known as real animal lovers – they are indeed, and I admire the dedication of those who rescue and look after animals – but it's sad that this kind of thing happens quite often.
Anyway, fruit and veg. We got some super fresh gooseberries delivered to our door the other day. The most common way to serve these is making a fool (not that fool), although I saw a recipe using them with mackerel, it sounds lovely – and you always cook them, I tried eating one raw, it was super tart!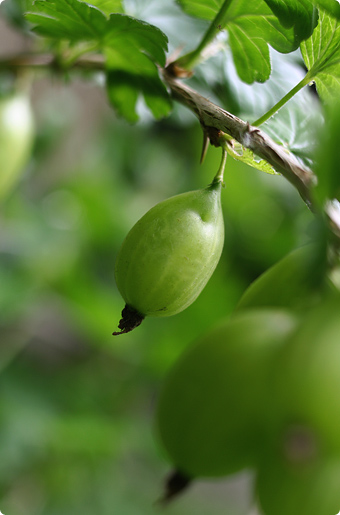 I've actually wanted to make this ice-cream since last year – but I missed the elderflower season then (I made cordial with elderberries, but didn't really like it) and so had to wait until now. You can find gooseberries at markets although the season is very short, so I'm lucky to have them locally (literally a few hundred metres away).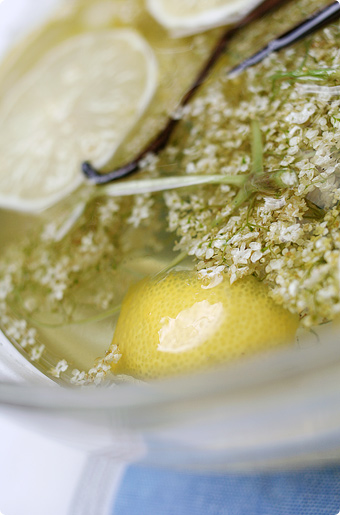 Having learnt from last year, I had my elderflower cordial ready before the gooseberries were ripe :) I've been using this recipe, with a little less lemon and sugar. I like adding some used vanilla pods which have been kept in a sugar jar (I reckon fresh pods would be too strong).
For the ice-cream, I found a recipe on Delia Smith's site – according to her 'it is unbelievably good', so of course I couldn't resist :) I found another recipe in Nigella Lawson's book – but her recipe uses whole berries without sieving them, and I wasn't sure about that, so decided to stick to Delia's one. Nothing complicated involved, you just need to make custard, add the cooked gooseberry puree and elderflower cordial, then churn in a machine.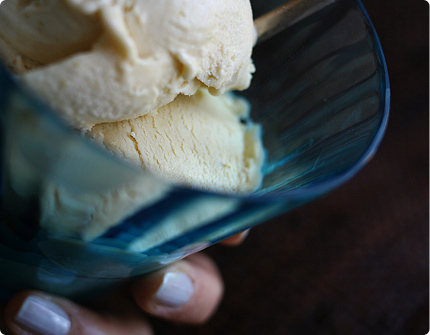 When I was cooking the berries, the kitchen was filled with a smell of 'greenery' and I was a little anxious as to whether I would get any fruitiness from them, but the finished ice-cream was lovely – I wouldn't say 'unbelievably good' but it's definitely a taste of the British summer :) The tangy berry flavour and subtle 'flowerness' work really well with the custard, and makes you feel nostalgic (again, I've never had this ice-cream before, but for some reason, it just does).
I'm aware that I've been posting rather a lot of ice-cream recipes – I can't help it, I love it so much :) Our machine, which was one of our best wedding gifts, has been working hard for six years without a single complaint – I must churn at least twice a week, but the results don't last very long as you can imagine :)