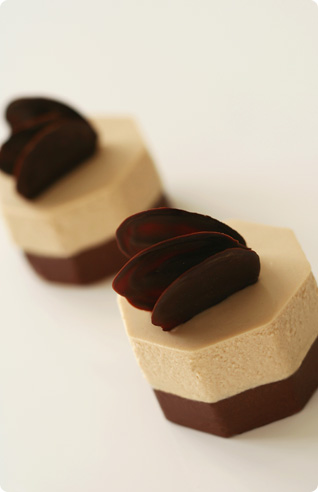 Better Late than Never...
29 October 2005
I was quite sad that I missed this month's SHF – it's not that I thought it was this Friday, I just couldn't get round to it – having my birthday last week didn't help either, although I had a lovely time here with my friends :)
Nonetheless, I'm happy to make/eat chocolate desserts anytime so I made this chocolate and earl grey mousse cake anyway. The original recipe was for a mint and chocolate mousse combination; I'm not mad about that combo at all, but I fell in love with the subtle aesthetics of it so decided to have a go with something else. I quite fancied making pear mousse but felt more like using tea (I actually found another recipe with earl grey flavoured creme brulee and chocolate mousse encased in chocolate ganache, which I look forward to trying another time) and I wanted to try the octagonal moulds that I just got from here.
I didn't want the chocolate to overpower the tea flavour – to be honest I didn't think it was going to taste great when I was making it (!) but I must say I was really pleased with the result. The earl grey mousse had a very smooth, silky texture (I infused the tea into milk first and made custard, then added gelatine and softly whipped double cream) and it worked really well with the rich chocolate mousse (pâte à bombe i.e. egg yolks plus 30ºB syrup, chocolate and double cream). I brushed the chocolate sponge base with orange syrup which complemented the other flavours (I might even add orange compote next time). Making the chocolate 'plaques' was good fun too, I recently got a thermometer (eventually!) and tried tempering chocolate properly for the first time – I find it really therapeutic!
Anyway, this is going to be a regular dessert for sure – it's not just the taste that I like, but the warm autumn colour too :)