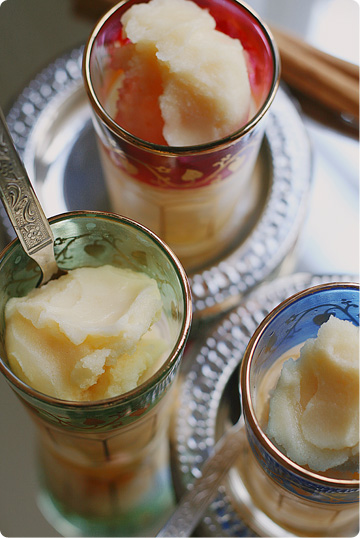 Seville Orange Sorbet
13 January 2006
A couple of days ago, when I found these seasonal treats for the first time this year, I just couldn't help getting loads of them. In the UK, we can only get these bitter, ultra tangy oranges from Seville in January and February. I actually posted about these oranges last year, but wanted to post a recipe for this delicious sorbet. I was recently reading through these favourite books again and was inspired to add orange-blossom water to the sorbet instead of liqueur. As you may know, orange-blossom water has a very strong distinctive flavour, which won't be to everyone's taste – so you can use less or liqueur instead. If you can't get these oranges, you can always substitute them for normal oranges and limes or lemons (about 3:1) and it still tastes good – but it won't be quite the same as Seville oranges. I've also used them to make a yummy tart and ice-cream, so will try to post these some time.
 
serves 4

170g caster sugar
250ml water
2 small sticks cinnamon
Finely grated zest of 1 Seville orange
250ml Seville orange juice (about 7-8 oranges)
1-2 tbsp orange-blossom water (or Grand Marnier/Cointreau)
 
Place the sugar, cinnamon, zest and water in a saucepan over a moderate heat, bring to the boil and simmer for about 10-15 minutes. Cool the pan in a bowl of iced water, stirring in the orange-blossom water and continuing to stir as it thickens. Before it cools completely, add the orange juice; then when cold, strain the liquid and churn in an ice-cream machine until you reach the desired consistency. If you don't have a machine, put the mixture into the freezer, beat with a fork every half an hour until smooth textured.