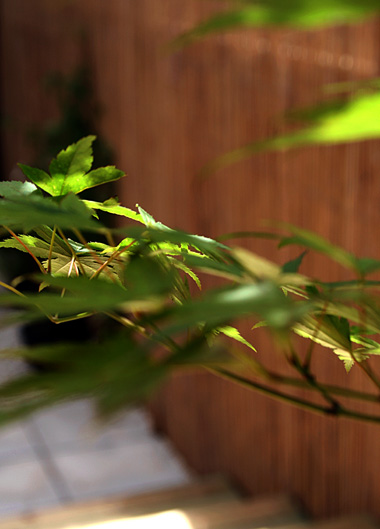 Fresh Chorizo Sandwich with Tomato Salsa (and some pics from our garden)
28 July 2005
Although we've had disappointing weather recently, we are trying to use our DIY re-done garden as much as we can. I thought I'd take some photos (including our naughty cat) while the weather is still nice, the one on top is the Japanese maple tree that our generous neighbour friend Peter gave us.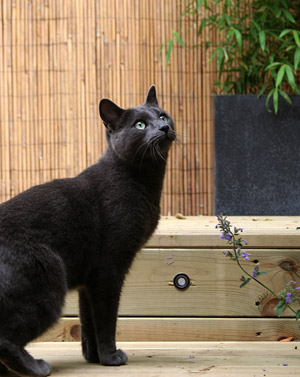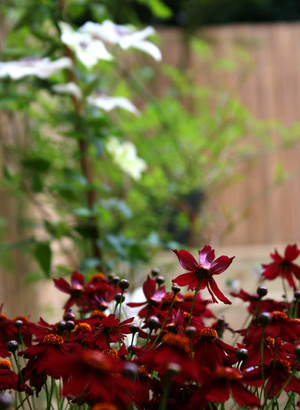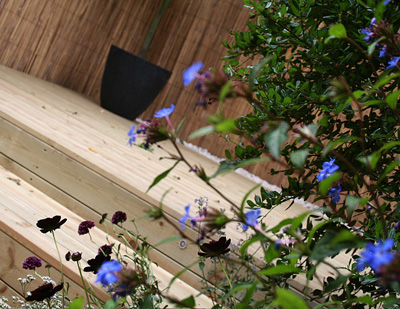 Last week, after I enjoyed the exhibition of Frida Kahlo at Tate Modern, I managed to pay a visit to Borough Market – which is close enough to enjoy walking along the Thames from the museum. Probably the most famous sandwich in the market – with juicy fresh chorizo sausages sold by excellent Spanish foods supplier Brindisa – has been my favourite for a long time. Although I can get hold of those sausages even at my local deli, I still enjoy having them when I go there (and I don't mind queueing up while watching the flame grilling!)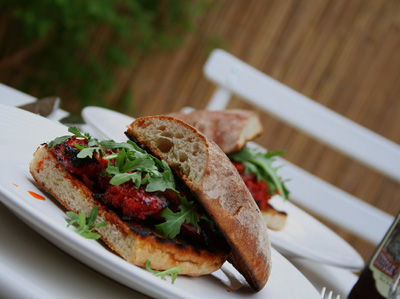 I like making this sandwich at home too, I adopted a recipe from the book Tony & Giorgio (which is from the off-beat TV cookery programme with Giorgio Locatelli and Tony Allan). Make tomato sauce first. Grill the sausages on a very hot griddle – you'll have lots of juice coming out from them. After they are cooked, put the bread (I like using ciabatta or sourdough) on the griddle to mop up all the goodies from the chorizo. Serve with rocket leaves and the tomato sauce with a squeeze of lemon juice. You can add sunblush tomatoes too, I love using my oven-dried tomatoes for this recipe. You can use cured sausages of course, but bear in mind they won't be as good as fresh ones.

browse
search
categories
current reading

food blogs
Nordljus is powered by textpattern
All writing and images on this site © 2005-2009 Keiko Oikawa