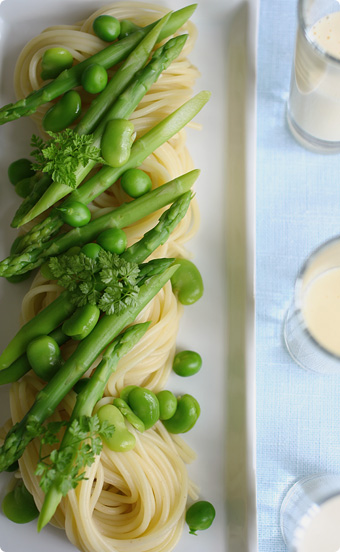 Summer Pasta and Bakewell Tart
13 July 2006
For me, there is nothing better than having cold noodles when the warm weather puts you off hot food. Summertime here in the UK actually isn't bad at all, compared to Japan where it is so hot and humid, even I lose my appetite and have to face endless sleepless nights. You sometimes have to force yourself to eat, and quite often cold noodles are the only choice for me.
Thankfully, we've had hot-but-not-too-hot weather for a while in the UK and I've been enjoying cold Soba or Udon noodles that my mother sent. It may not be so authentic, but I love pasta salad also – there are so many flavours you can enjoy during the summer. I found this pasta salad recipe in the latest issue of Japanese Elle a Table – it was featured as one of the 'summer noodles ready in 30 minutes!', though all of them looked tempting I decided to go for the summer vegetable pasta salad with Anglaise sauce. (it takes even less than half an hour to make, a bonus!)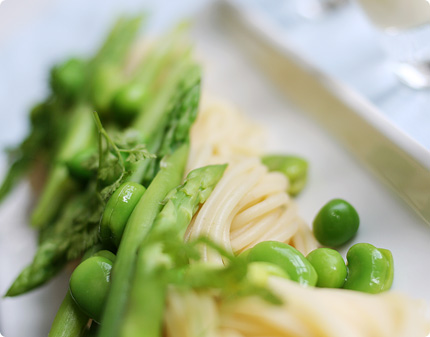 It's a sort of cold version of carbonara – pasta and the veg are all plunged into ice-cold water after cooking and served with ham-infused eggy cream sauce (also chilled). Pouring the sauce over noodles as you eat is a fairly common way of serving in Japan, so although this is a pasta recipe, it still feels like eating in Japanese style.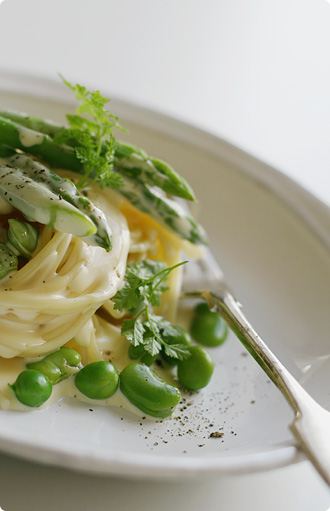 You can use any vegetables you think would work (the recipe suggests adding okra, courgettes and soy beans too) – I used broad beans, peas and asparagus this time since all of them were bought us by our friend, it was all cooked just after picking. Actually the only ingredients I didn't get locally were the pasta and Parma ham (and the salt & pepper :)) You can adjust the egginess/creaminess of the sauce to your taste, but the recipe was just about right for me – it has twice as much milk as double cream, I normally don't like rich creamy sauce but this was lovely. Make sure to use very thin pasta like cappellini or spaghettini, and if your veg is chunky, slice or cut into thin uniform pieces.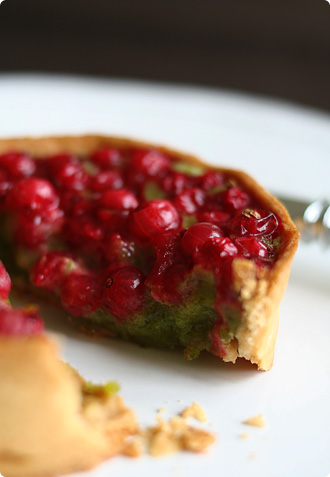 This is my version of Bakewell Tart – it was Andrew's suggestion to make it, as an attempt to save it from extinction. I'm going to leave the origins of and commentary on the tart to the other participants, as eveyone has done a brilliant job creating their own renditions.
I actually didn't know what bakewell tart was like – I had heard the name but never tasted it. I followed Sam's recommendation for a recipe in his book and got a better idea of what it involves.
I was supposed to post this by the end of June, but I wanted to use my redcurrants (which I started growing this year) for the tart – but they weren't ready at the end of June :) I knew my harvest wouldn't be enough for making a tart, so was going to buy some from the market too – and then when mine were fully ripe, I still couldn't find any at the market! So I decided to make one mini tart with my full harvest.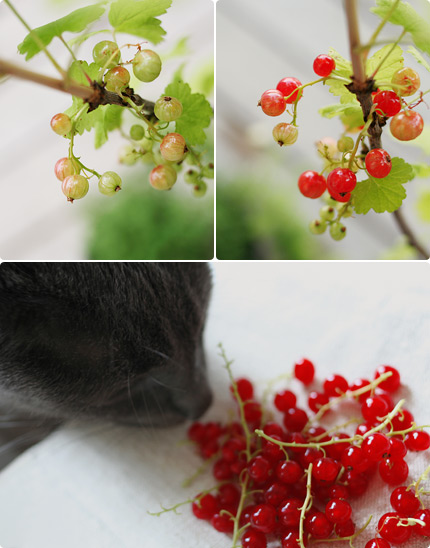 I got the idea for this when I tried a redcurrant and pistachio tart from this bakery in Paris. I fell in love with the combination and wanted to recreate it (yes, I bought the redcurrant tree when I came back from Paris :)) I was flipping through my dessert books looking for a suitable pistachio frangipane recipe – and found a promising-sounding one in my favourite book. The filling is made with almond cream (frangipane), custard cream and pistachio paste – it wasn't the easiest recipe for a tart filling, but it was definitely worth it – the rich, moist and nutty flavour works perfectly well with the sharp and tangy redcurrants (the original recipe paired it with cherries) I was experimenting with the quantities of each filling but wasn't taking notes so I'll try to put a recipe up when I get enough redcurrants to make a bigger tart :)
So, my version may not be a certified, card-carrying Bakewell Tart, but I'm quite happy with how it turned out and hoping for a bigger harvest next year… Thanks again, Andrew, for the inspiration.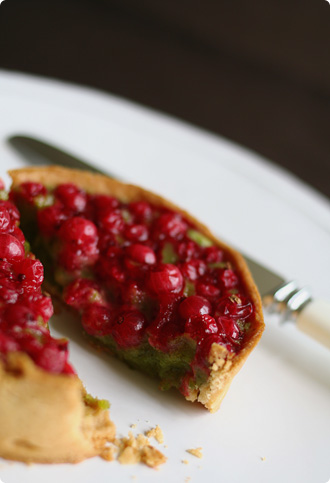 Summer vegetable pasta salad with Anglaise sauce

serves 3-4
300g long thin pasta like Cappellini or Spaghettini
Summer vegetables of your choice
A sprig of chervil

for the sauce
40g ham (Parma or similar)
4 egg yolks
200ml full fat milk
100ml double cream

For the sauce, put the egg yolks in a bowl and lightly whisk. Place the milk, cream and ham in a saucepan and bring to the boil. Slowly pour it over the egg yolks stirring constantly. Put the mixture back to the pan and cook until it coats the back of a spoon (keep stirring!) Check the seasoning and add salt if necessary. Sieve into a clean bowl and discard the ham (you can serve it with the pasta if you want to, why waste it?) and chill in ice-cold water.
Cook the vegetables in salted water, just enough so they remain crunchy. Cook the pasta (also in salted water) until al dente – you can use the same pan if you're confident about getting the timing right. Drain the vegetables and pasta and quickly plunge everything into ice-cold water then roughly dry with kitchen paper. Serve the sauce separately and pour over as you eat. It's nice to serve the sauce individually especially if you have guests.