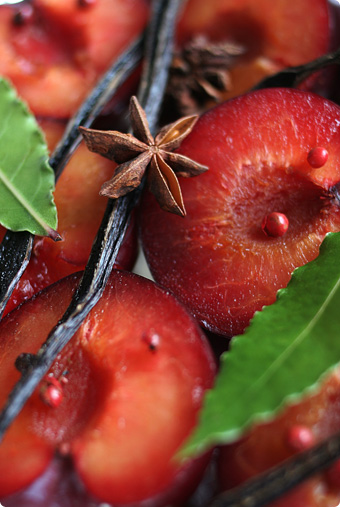 Roast Plums with Honey and Yoghurt Ice-cream
21 July 2006
Although in my last post I said that we've had hot-but-not-too-hot weather here in the UK, this week has taken a turn for the hotter. I'm glad that I don't have to take the tube to go to work any more, that's one of the things I don't miss about living in London. This heat also reminds me of the summer of 2003, when Europe was hit by the record breaking heat wave – we were heading for Scandinavia by motorbike then, hoping it would be cooler than here… in vain, as it happens – just wearing the bike gear was hard work and it's a shame that we didn't enjoy the trip as much as we could have done.
So, I haven't been able to think much about eating anything other than cold food, let alone what to cook.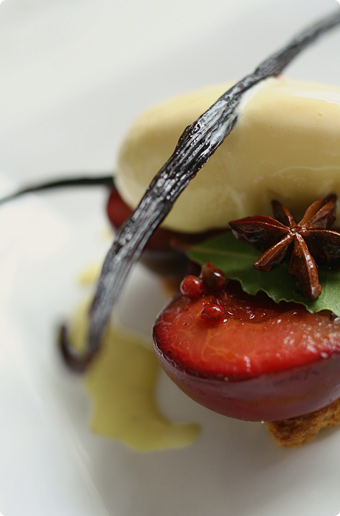 I made this plum dessert when I did the apricot and matcha mousse cake – it's from Formulas for Flavour by John Campbell and although I've never a big fan of plums the recipe seemed too tempting not to try. I've bookmarked so many recipes from this beautiful book by the way – not only are the recipes intriguing but the instructions are clear, simple and easy to follow, which is one of the most important points for me when it comes to cookbooks…
According to John 'this dish combines many taste sensations' – and it certainly does. Plums are roasted in syrup with fresh bay leaves, pink peppercorns, star anise and used vanilla beans – the smell while roasting is exotic and excites your taste buds :)
Refreshing honey and yoghurt ice-cream is served with the plums, it sounded delicious even without the fruit and it really was. Addition of creme fraiche gives it a richer flavour and I'm thinking about infusing herbs for this recipe next time.
 
Bay leaf Anglaise sauce complements this dessert – since trying Claudia Fleming's bay leaf creme caramel, I've been hooked by this fresh bay and custard combination – I now enjoy bay leaf ice-cream too (will try to post about it) and this flavour indeed gives more depth without being overpowering.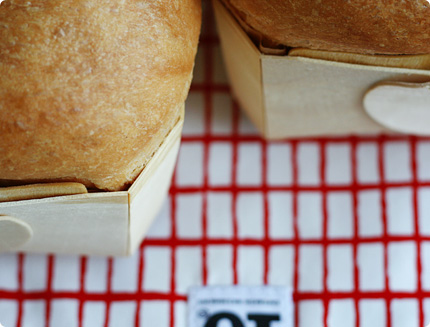 And toasted brioche for the base – I went for the 'middle-class' version recipe in The Bread Baker's Apprentice by Peter Reinhart – this book is becoming one of my bread bibles as well as the first and second of Dan Lepard's books and also Ursula Ferrigno's. Speaking of Dan Lepard, I've been meaning to post about his demonstration at last year's Ludlow food & drink festival – he wasn't just an excellent baker but also SO nice that he makes you feel everyone can bake, which encouraged me lots :)
The ratio for the middle-class brioche is 50-50 butter and flour – the dough is chilled overnight in the fridge and although it's easier to deal with than the 'rich man's' version (which has a much higher butter content, Joycelyn made gorgeous things with it), you still need to work quickly while the dough is still very cold.
The recipe for the dessert says that you can use a light sponge cake instead of the brioche – and I actually thought this might be a better option, but the almost crunchy brioche really gives another dimension to the dessert and I loved the rich buttery taste with the fruit and cream.
I was anxious about too many flavours overpowering each other – they are all there, but just enough to give an undertone of the taste of each, and I loved the kick from the pink peppercorns too. I'm sure other stone fruit would be lovely for this, such as apricots or peaches.