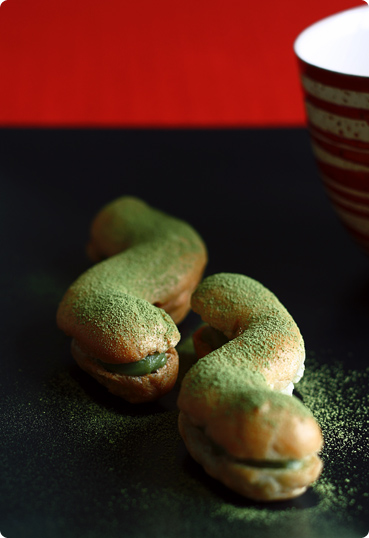 Eclair with a Twist
7 January 2006
Before I start, I wanted to thank you all of you who nominated this site for the 2005 Food Blog Awards, hosted by Kate at Accidental Hedonist. I'm honoured to be one of the finalists in Best New Food Blog and Best Food Blog – Photography categories. As you know, there are so many wonderful talents – and not just among the finalists – and I'm flattered to be one of them. Have a look at all the great sites, you can vote here until midnight (PST) on January 18.
Anyway, this is my first dessert of the new year – as you can see, I wanted to add a little Japanese touch to it as I really miss the new year in my country. Unfortunately I didn't have many ingredients for desserts but I was hooked by this recipe as soon as I saw it in the latest issue of Japanese Elle a table and I was lucky to have all the ingredients. A Japanese patissier Hironobu Tsujiguchi, who runs the popular shop Mont St Clair in Tokyo, writes dessert recipes for the magazine every month – usually classic French desserts but with a Japanese twist. These are basically matcha eclairs but with an extra twist – sandwiched by the matcha pastry cream is rice cake (Mochi) – which is something not to be missed when celebrating Japanese new year. Thinly sliced and blanched rice cake with bitter pastry cream (to be honest I was a little sceptical about the combination at first) worked surprisingly well together with the airy choux pastry. I can definitely use this chewy, sticky rice cake for something else, I think the unusual texture has potential!
So I'd say this first dessert of 2006 went well… except for a thoughtful comment from Matthew who saw the batch of choux pastries on the baking tray and said 'Worms!'.
 
browse
search
categories
current reading

food blogs
Nordljus is powered by textpattern
All writing and images on this site © 2005-2009 Keiko Oikawa