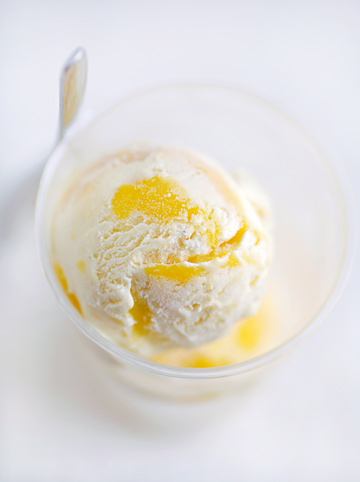 Ice-cream Weather is Here At Last...
5 September 2007
I enjoy making and eating ice-cream all year round, but the cold and wet summer we had this year really put me off. Our ice-cream machine, which has been working hard for more than 7 years, didn't see much action this summer. So when we had some brief sunshine and warmth last month, I opted for an intensive ice-cream making session.
Until fairly recently my main source for ice-cream was this book – it's a great and comprehensive book, but I'm now happier with these new titles. I know I'm a bit late in the game, but I finally got my hands on David's new book – which is full of great recipes and just like his blog, there is an interesting story behind each one.
It took me a while to choose which ones to try, but to start with I decided to go for the toasted coconut ice-cream with mango sorbet swirl. After making the mango sorbet (make sure not to eat it all at this point!), lightly toast (dried shredded) coconut, then infuse it in (normal dairy) milk with vanilla. When I tasted the strained milk mixture I thought the coconut flavour might be too subtle, but the churned custard was just perfect – I especially loved the fragrant toasted flavour. The rich, creamy ice-cream and the refreshing, boozy (I put more dark rum than it says in the recipe, I couldn't help it) sorbet were both delicious on their own, but together it was definitely more than the sum of its parts.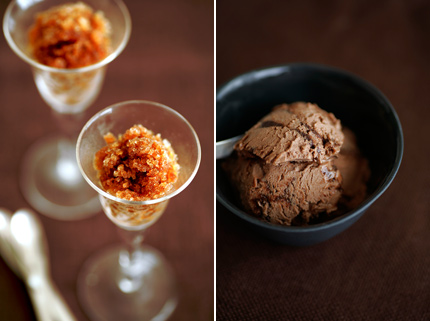 The next I tried was gianduja gelato – hazelnuts & milk chocolate combination is my favourite and I just knew I had to make this too. Again, toast the nuts in the oven and finely chop them in a food processor, then infuse in milk. David suggests adding Stracciatella to it, but I had some hazelnut paste left that needed to be used up so I made praline chocolate ripple instead. It was very chocolatey, nutty and satisfying :)
Oh and as someone who can't live without strong coffee, I couldn't help making espresso granita also – I love making sorbet but never actually made granita before. Brewing 1 litre of espresso in one go wasn't something I'm used to do, but it was fun (and incredibly easy) and the finished result was lovely too.
You can find all the recipes in his book.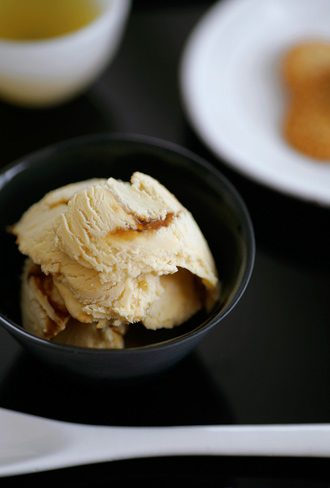 I wanted to make something with a Japanese twist too – David has some recipes using matcha and kinako in the book, but I decided to make something else as I've been making matcha ice-cream for a long time and I'm not a big fan of kinako unfortunately!
When I was in New York a few months ago, Kelli and Karen took me a Japanese tea place called Cha-An (means tea house) in the East Village. I had a rich, distinctive creme brulee and ice-cream both using black sesame seeds. Since then, I've wanted to make something similar, but I always find black sesame flavour a bit too strong so used white sesame instead.
Most of the recipes for sesame ice-cream I've found on Japanese sites suggest using shop-bought sesame paste, which is commonly used in South East Asia (very similar to tahini). I could have used those, but I wanted to try making it with things you can easily get here.
Again, lightly toasted sesame seeds are ground to a paste in a food processor before infusing in hot milk. I suspect that using shop-bought paste might give a smoother texture (with possibly a richer flavour), but I was quite happy with how it turned out. It was rich, but not overly rich – if you like sesame seeds I think you would like this :)
I made syrup with molasses which is often paired with many sesame desserts in Japan. I rippled it into the ice-cream, but of course you can serve the syrup separately. I rustled up some white sesame tuile biscuits too – the crunchy texture enhances the nutty flavour of the ice-cream. Great with any type of green tea, but particularly good with hoji-cha.
So I enjoyed this intensive custard session, and now if you excuse me I need to go back to the kitchen to use up all the egg whites sitting in our fridge…

White sesame ice-cream with molasses swirl, white sesame tuile biscuits

Serves about 4
For the sesame ice-cream
80g white sesame seeds
250ml full fat milk
250ml double cream
4 egg yolks
90g caster sugar
For the molasses syrup
50g molasses
50g light brown sugar
30ml water
For the white sesame tuile
15g plain flour
70g caster sugar
20g unsalted butter (melted and cooled)
1 egg white (about 40g)
90g white sesame seeds

For the ice-cream, lightly toast the sesame seeds in a dry frying pan over medium heat, shaking constantly. Remove from the heat and leave to cool. Place the seeds in a food processor and whiz until they become wet paste.
Place the milk in a saucepan and bring to boil. Remove from the heat, add the sesame paste, mix well, cover and let steep for at about an hour. In a bowl, whisk the egg yolks and sugar. Rewarm the milk mixture and strain into the yolk, constantly stirring, using a spatula to extract as much as possible. Discard the solids.
Place the mixture in a clean saucepan and put on a medium heat, constantly stirring until the custard thickens and coats the back of the spoon. Strain the mixture once again, and cool over ice-cold water. Chill in the fridge, add the double cream and churn it in an ice-cream machine according to the manufacturer's instructions.
For the molasses syrup, place all the ingredients in a saucepan and gently heat until the sugar melts and thickens a little. Set aside and cool.
For the tuile biscuits, preheat the oven to 180ºC. Lightly toast the sesame seeds in a frying pan over medium heat. Mix the egg white and sugar in a bowl, add the flour, seeds and the butter – in that order mixing between each. Spoon the mixture over the baking sheet, then bake in the oven for about 10 minutes (or until golden brown).
To serve, you can swirl in the syrup when the ice-cream is soft from the machine or you can serve them separately. Make the tuile biscuits at the last minute to enjoy the crunchy texture with the ice-cream.