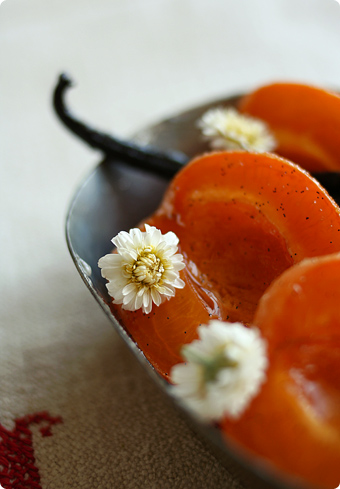 Roasted Apricots with Camomile
7 July 2006
Although I've never been a big fan of apricots or plums, I just couldn't resist trying these recipes – not surprisingly, I liked the pictures in the books :) and I was happy to find decent fruit at a market.
The first recipe I tried was roasted apricots with camomile from The Last Course by Claudia Fleming – I've been inspired by this beautiful book in many ways and this time was no exception. It's as simple a recipe as it sounds but I enjoyed it thoroughly – I was lucky to find good apricots when my camomile in our garden just started flowering. I love the smell of fresh camomile, it's really refreshing and soothing at the same time.
Make the syrup first and cook the vanilla and camomile flowers, then roast the apricots in the sieved flavoured syrup. As Claudia mentions in her book, the tart apricots brighten/balance the gently perfumed flavour of the camomile – delicious with ice-creams, creme fraiche etc.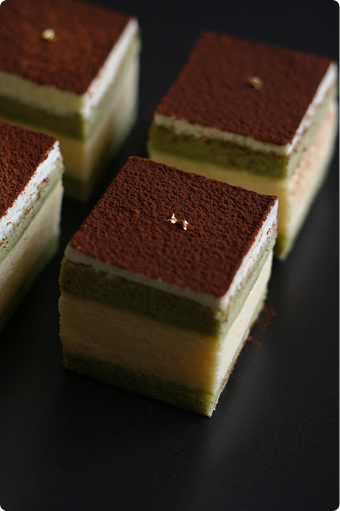 I found this recipe in one of my old Japanese books – it looked quite understated and I was intrigued by the combination. Apricot and pistachio is a fairly common pairing, but in this version, the green layers which sandwich apricot mousse are matcha sponge – an idea which I was thoroughly convinced by :) A topping of whipped double cream and a dusting of cocoa powder complete this lovely, summery dessert. They are so light and melting in your mouth – I made them petit size this time but couldn't stop with just one as you may imagine :)
I've made another delicious dessert with plums too, I'll post about it next time.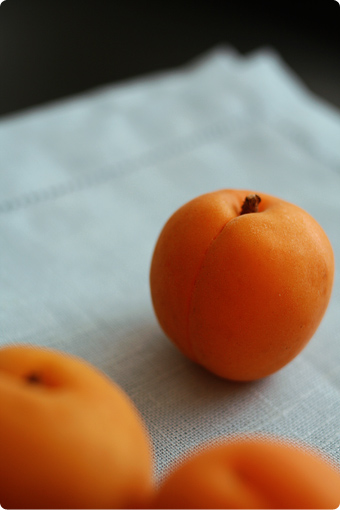 Roasted apricots with camomile
serves 4
1 1/2 cups sugar
1/4 cup fresh camomile flowers (if not available, you can use 1 camomile tea bag instead)
1 vanilla pod, seeds scraped out
8 apricots, unpeeled, halved and pitted
 
Preheat the oven to 350F. Place the sugar and water in a pan and bring to the boil. Add the vanilla seeds (as well as the pod) and camomile, then simmer for about 10 minutes. Finely sieve into a roasting tray.
Place the apricots in the syrup, cut side down, then roast for about 10 minutes. Turn them over, baste with the syrup and roast for another 5 minutes (or until tender).