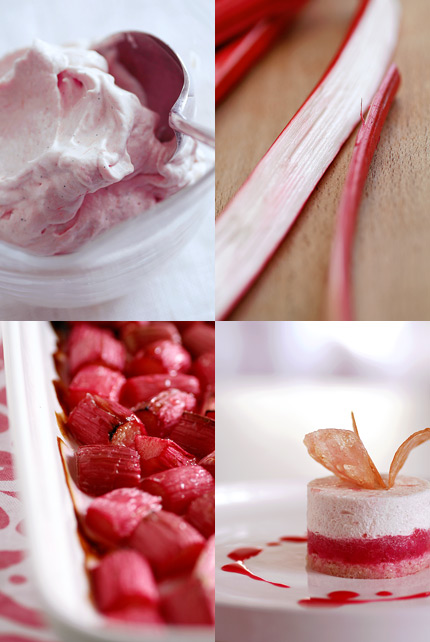 Rhubarb and Custard
11 April 2007
I've just come back from a trip to Italy, which was filled with wonderful food and meeting lovely people – I'll write about it next time but for now I wanted to share some rhubarb & custard recipes that I've been trying out while this lovely ingredient is in season.
The combination of rhubarb & custard is very English – but as I've heard from some people here, it's a bit of a love-it-or-hate-it thing. As I wrote last year, I too was a little sceptical about this vegetable at first and it took me a while to build up the courage to try it – but since then, there is no going back for me :) I love the tangy, clean flavour and of course, the gorgeous pink coloured juice when cooked.
I first went for a somewhat posh version – as a big fan of his book, I just had to try this recipe. He named this dessert literally 'rhubarb and custard' – it consists of rhubarb mousse and compote with ginger sponge base, rhubarb & custard ice-cream and rhubarb tuile – extremely rhubarb-y :)
First make the rhubarb compote (cooked in syrup), reserve some for making the coulis (liquidise the cooked rhubarb and cook with sugar until reduced by one-third), then use some of the coulis for the mousse, ice-cream and tuile. These components with their different textures and flavours are lovely in their own right but when combined, even better :) The recipe actually has dried rhubarb (thinly sliced and oven-dried) as well as custard sauce but I omitted them and made a simple rhubarb sauce instead by reducing the cooked juice. His recipe suggests using pickled ginger for the sponge, but again I used freshly grated ginger instead and it was delicious.
As he explains, I agree that by making several small uncomplicated dishes rather than one elaborate dessert, you'll find it easy to achieve (and it helps to be working with something that has as beautiful a colour as rhubarb :)) I had a friend try this dessert, who grows rhubarb himself but hasn't liked eating it since his childhood – I asked him to give me an honest opinion and he simply cleaned the plate :)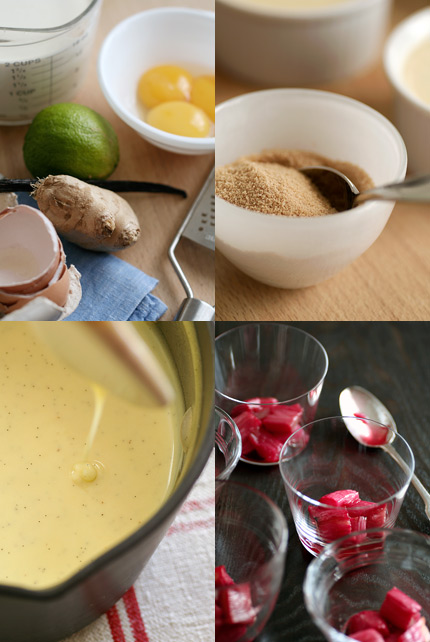 Next is the creme brulee with roast rhubarb – I adjusted the recipes from here and Tetsuya's book (previously posted here)
Although it's called creme brulee, it's not cooked so it's more like posset – roasting the fruit gives a more concentrated flavour, also helps to stop it going soggy which is the normal way to cook rhubarb. Even ignoring the fact that I'm a real custard fiend, I think this is one of the best ways to serve rhubarb, rich creamy custard with a slight heat from the ginger and sharp tangy rhubarb – it can't possibly go wrong!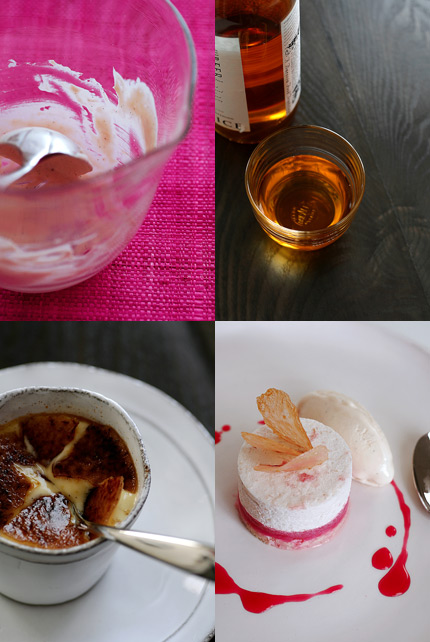 As if I hadn't had enough custard already, I tried another recipe for rhubarb ice-cream – it's Skye's recipe from her first book, and I was looking forward to trying verjuice for this recipe. Verjuice literally means green juice (vert jus) in French – it's made from unfermented grapes and is a milder alternative to lemon juice or wine vinegar. It's not so common in the UK – so I was happy to find some (Maggie Beer brand) at Petersham Nurseries where Skye works as the head chef. It's actually delicious on its own – I have a feeling that I'll need another bottle soon :) Oh and I had to order Maggie's book too!
The ice-cream recipe in the John Campbell book involved adding rhubarb coulis into the custard – it was lovely, but possibly a little too sweet for my taste and I wanted to try a recipe where the rhubarb flavour can be better tasted. Skye's version adds whole cooked rhubarb as well as verjuice. Once the rhubarb is cooked, take the fruit out and reduce the juice to half, churn the custard as normal then add the fruit and juice towards the end of churning in the machine. I loved the earthy rhubarb flavour and of course, the gorgeous pale pink colour :)
I bought all of the rhubarb for these desserts, but I paid a visit to our friend's allotment today and found his rhubarb is nearly ready – so it looks like we can enjoy this delightful vegetable for a while longer :)

Creme brulee with roast rhubarb
Makes 6-7 ramekins (about 7cm diameter)

For the roast rhubarb
300g rhubarb, trimmed and cut into about 1cm pieces
40g caster sugar
For the creme brulee
4 egg yolks
70g caster sugar
1 tablespoon of finely grated ginger
Finely grated zest of half a lime
450ml double cream
1 vanilla pod, seeds scraped out
Light brown sugar (make it finer in a food processor)

Preheat the oven to 200ºC. Place the rhubarb in a roasting tray (single layer) and toss well in the sugar. Roast for 15-20 minutes (until the fruit is soft). Cool and divide into ramekins.
Place the egg yolks and sugar in a bowl, whisk until pale and add the grated ginger and lime zest. Place the cream and vanilla seeds (as well as the pod) in a pan and bring to the boil. Remove from the heat and leave for about 10 minutes to infuse the flavour. Heat the cream again, take the pod out then slowly pour into the egg mixture, stirring all the time. Place the custard into the pan, set over a low heat and cook until the custard coats the back of a spoon, keep stirring! (it takes about 15-20 minutes) Cool the custard and sieve into a clean bowl. When the custard is cool, pour over the ramekins (with the fruit). Refrigerate for at least 8 hours, preferably overnight.
To serve, sieve the brown sugar thinly over the custard. Brown the sugar with a blowtorch (you can place under a hot grill if you don't have one). Repeat this process 2-3 times to make the perfect crunch. The custard will be softer than 'cooked' creme brulee, so you need to work fast while you're browning the sugar.