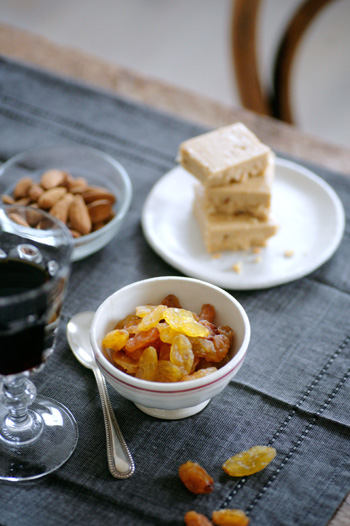 Turrón Mousse
25 March 2010
If you are based in the UK and a fan of Spanish food, the chances are, like me, you are a fan of Brindisa too. Since I first tasted their famous chorizo sandwich at Borough market nearly a decade ago, my love of Spanish food has kept growing.
Brindisa is an importer of fine Spanish foods, founded by Monika Linton about 20 years ago, when Spanish food was still very much the poor cousin of Italian or French. (You can read her fascinating interview here.) Monika's love of Spain and Spanish food goes without saying and her passion is contagious – I'm so glad that she pursued her dream and introduced us to so much wonderful produce. Being able to taste their fabulous fare is a joy in itself, but I'm so thrilled that I've started working with them recently – they are such a wonderful, passionate team and great fun to work with.
One of my trips to Spain a couple of years ago was to visit my dear friend Alastair, who started a small, but wonderful organic food company called Sierra RIca – it has sadly closed, but he now works with Brindisa. A while ago I had the chance to catch up with him at Tapas Brindisa, one of their restaurants near Borough market. I love tapas and always feel like ordering everything on the menu – so I let him choose for me, his selection including this gorgeous Monte Enebro goat cheese with orange blossom honey, big plump Gordal olives – and the rich almond mousse made with soft turrón, which was a big hit with me.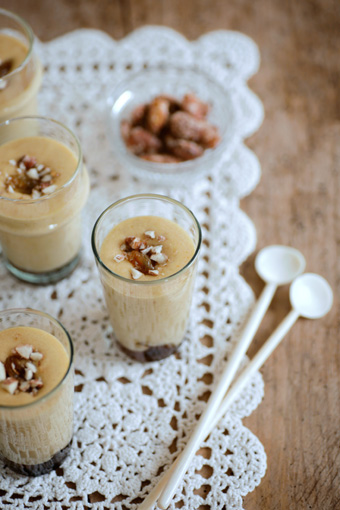 I had purchased a book called Seasonal Spanish Food by Jose Pizzaro, the chef patron at the Brindisa restaurants, and remembered the recipe was in the book, so I wasted no time getting all the ingredients from their Borough market shop on the day :)
Pizzaro (as everyone calls him), originally from Extremadura, started working in the UK as the head chef at Eyre Brothers, before meeting Monika and joining Brindisa. His book, beautifully shot by Emma Lee, includes variations of many of his favourite family recipes – simple and traditional with a modern twist. Just reading through his stories makes me dream about all the beautiful places in Spain and want to visit them. I've made some savoury dishes from the book which all turned out great (and I love his tip for using olive oil when making mashed potatoes :)).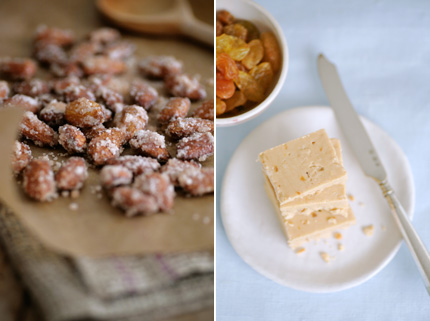 Turrón is a Spanish nougat made with almonds, honey, sugar and egg white, traditionally served at Christmas. It comes in a variety of types – hard (duro) or soft (blando) – and you need to use the soft one for this recipe (I used Alemany). It's very tempting to taste it as you make the dessert – the aroma of the almonds is irresistible! I absolutely loved the addition of the golden raisins in this dessert too (and I'm not even a fan of raisins) – they are marinated overnight in sweet, almost treacle-like Pedro Ximénez sherry. I used Gran Barquero this time – it's from Cordoba province rather than Jerez, but it's really lovely and works wonderfully in this dessert.
Although it's called a mousse, it's more gooey than the name suggests – it's rich, so better to serve in small portions – but it's totally addictive :) Finishing it with caramelised almonds adds a little extra texture. Make sure to use the best ingredients as it's very simple and you will taste each one in its own right.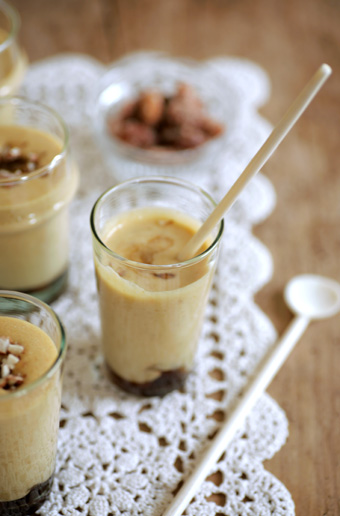 Turrón mousse with raisins macerated in PX sherry
Serves 4
24 golden raisins
4 tablespoons PX sweet sherry
2 eggs, separated
4 tablespoons double cream
150g soft turrón
Place the raisins in a bowl with the sherry and marinate overnight. The next day, drain the raisins and reserve the sherry.
Place the turrón, egg yolks, double cream and sherry in a food processor and blend until smooth and creamy. Whisk the egg whites to stiff peaks, then gently fold into the turrón mixture.
Put 4 raisins into the bottom of each of four small glasses. Divide the mixture between them and chill in the fridge for at least 6 hours.
Decorate each glass with two more raisins and if you fancy, serve with roughly chopped caramelised almonds.