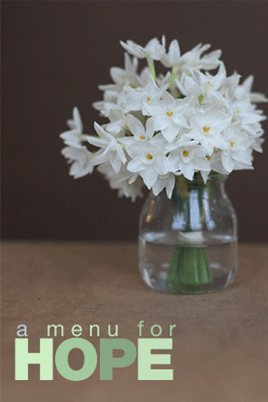 A Menu for Hope II
12 December 2005
Some of you will probably already know that Pim has arranged a charity fund raising auction in aid of the victims of the earthquake in the Kashmir region of India and Pakistan. This page has been set up at Firstgiving to collect donations – each $5 you donate will enter you into a draw for one of the prizes offered by participating food bloggers (including me). Find more details at the campaign page, but when you donate, don't forget to write in the comment section there which prize(s) you are interested in. The money you donate goes straight to Unicef from Firstgiving, so you can be sure that your donation goes directly to this worthy cause.
The prize I'm offering is some Matcha (powdered green tea from best quality leaves). As well as making tea from it (it's used in the traditional Japanese tea ceremony), we use it for both savoury and sweet dishes – you can see some of my desserts creations here. I've just ordered some from one of the best green tea shops in Kyoto (famous for Uji tea), which I will be receiving soon. I'll also include some recipes for Matcha desserts, so you'll have something to try when you get it!
Head over Firstgiving – the campaign ends on December 23rd, so be sure to make your donation before then. Thanks so much for your support.
 
browse
search
categories
current reading

food blogs
Nordljus is powered by textpattern
All writing and images on this site © 2005-2009 Keiko Oikawa