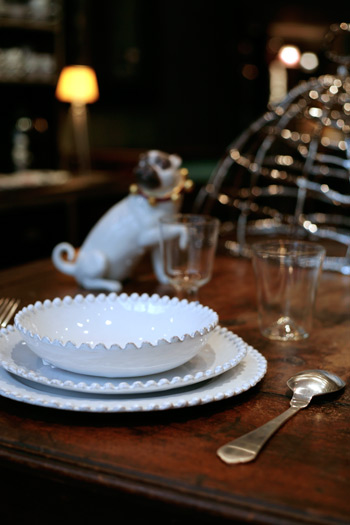 Some of My Old and New Favourites in Paris
30 May 2008
I seem to keep apologising for the lack of postings lately – things have been hectic (in a good way) but I'm glad I managed to squeeze in a few days for a short trip to Paris this month. It was lovely to see my friends as well as catching up with some fellow food bloggers (thanks again everyone), I really should try to cross (or go under to be precise) the channel more often, the train takes just 2 hours from London (and don't forget to take Clotilde's new Paris book when you go – it's packed with great ideas for places to visit).
Matthew and I are off to Cuba tomorrow, but before I leave I wanted to share some of my favourite places in Paris.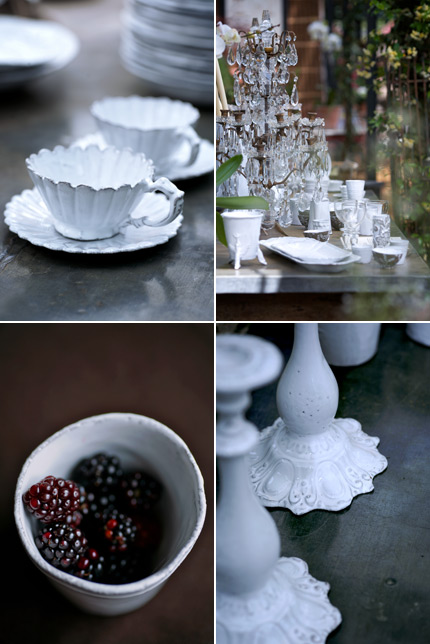 Some may recognise these beautiful ceramics – they are from Astier de Villatte, one of my absolute Paris favourites for a long time. I can't remember when I first visited the shop, but since then it's been a ritual to collect some of their gorgeous pieces (a couple at a time, I can't afford more than that) every time I'm in the city.
I'm a sucker for delicate organic lines and shapes when it comes to crockery or art pieces (especially glasses and ceramics) – I don't know why, but I always seem to get attracted to fragility in lots of things…

You can actually get their stuff in the UK (and many other countries too) – Petersham Nurseries, Liberty, Designers Guild, Summerill & Bishop and Mint (they are all my favourite spots in London :)) have good selections, but you just can't beat the variety at the Paris shop and they always have some new stuff.
They have not only gorgeous details on each piece but also have a unique glaze which lends a beautiful, slightly grey colour. I love the way they look when you serve food in them – it adds character without being too showy. They are all handmade so each piece has a different shape and texture – I always end up spending hours in the shop deciding which ones I'm going to take home!
Their plates and cups have appeared in my blog posts many times and I'm sure they will do again – they certainly have pride of place on my prop shelves too :) I haven't been able to afford them yet, but their new glass & cutlery collections are beautiful too.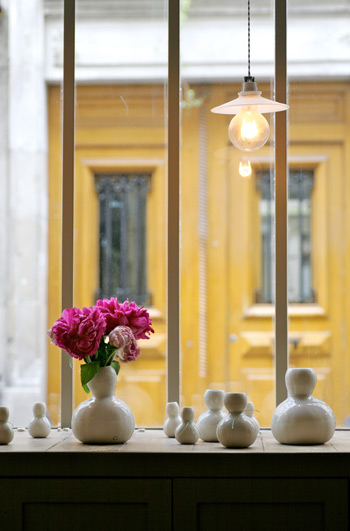 Here is my new favourite place in the city – it's called Le Petit Atelier de Paris, tucked in a small street in the Marais, I instantly fell in love with the place as soon as I stepped into the door.
This charming shop/studio is run by ceramic artist Jae and her husband Stephane who is also a designer. They have a workshop at the back of the shop and the place has such a warm atmosphere – Jae's ceramics have a lovely ivory colour with beautiful organic lines and some of them have a playful, quirky design which I loved too. Some of her ceramics are complemented by beautiful wooden trays and accessories made by Stephane, which really add warmth to them.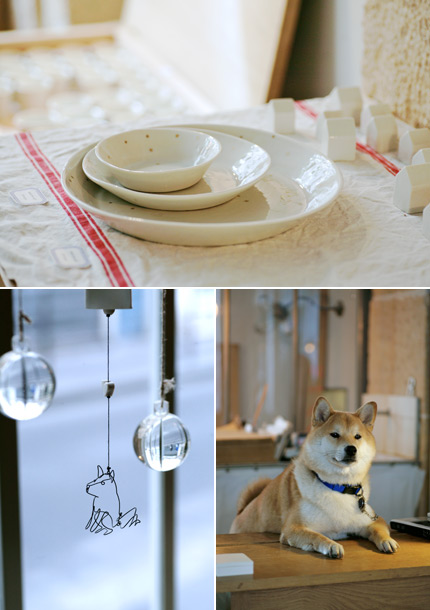 I bought some of her espresso cups this time – since I came back I've been using them every morning for my doppio macchiato fix :) Oh and when I was there, I couldn't help noticing a super cute doggy enjoying sun-bathing in their courtyard – Jae kindly let him (found out later that he's called Pompon) in the shop for me and let him sit on his beautiful four postered bed which Stephane made specially for him – he was such a sweetie!
They have many cute accessories too – I especially loved the little alphabet made with porcelain, and the mobile modelled on Pompon… They regularly collaborate with other artists – so check their site often to see what's new.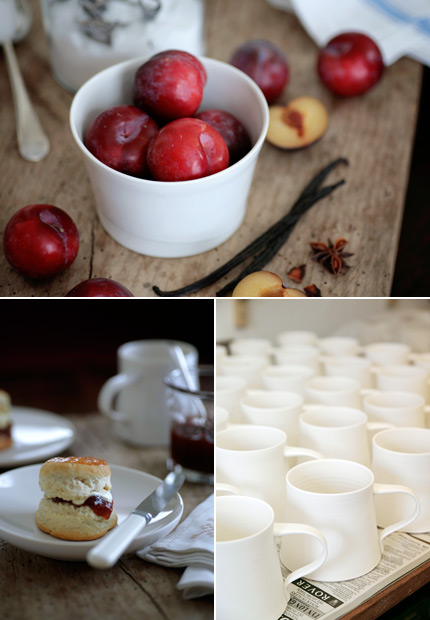 On another ceramic note – I've been working with a great artist called Ali Drew. She contacted me a while ago asking if I would be interested in collaborating with her by taking pictures of her work – I was thrilled at the chance!
Her beautiful pieces can be found in some of the hippest London restaurants including Alan Yau's Hakkasan and Yauatcha – I told her that her pieces have a kind of Japanese feel to them and that's partly because I love them – she agreed and told me that maybe that's why she liked my pictures :) We've been bouncing ideas back and forth – it's been great fun, it's also nice not to have a tight deadline which is the usual way for me to work…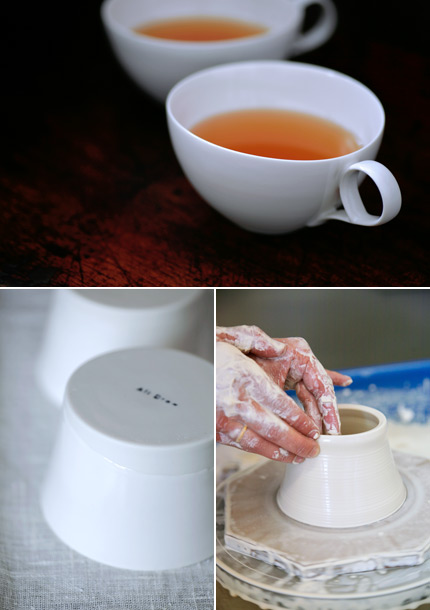 I recently had a chance to visit her studio in the lovely little town of Betws-y-Coed in north Wales. It was fascinating to see her working – for me, it was just magical watching a block of clay turning into a gorgeous cup on the wheel so (seemingly!) effortlessly (and I actually fell in love with her wheel too – it was a piece of art itself).
Ali now has some great new pieces out which were recently featured in The World of Interiors (one of my favourite mags) – her site is currently being updated, so check back again soon!
OK, I should start packing now – hopefully I can share some snaps from Cuba when I get back. I'm sorry it's taking so long to get back to all your comments, I'll try to write back on my return. Hope you are all enjoying the early summer, see you in a few weeks!